Hey Hunters,
Welcome to the second Kamura Hunter's Hub! For those of you that may have missed our debut post, the Hunter's Hub is our regular community update for you, the
Monster Hunter Rise
community here on Steam.
In this week's post we've got part 2 of our beginner's guide to Wirebugs, where we'll be showcasing even more mobility options for you to utilise! We'll also be taking a closer look at the work that's gone into Monster textures for the PC release of
Monster Hunter Rise
. Things will then wrap up with some more new info and insights from Suzuki, Director of
Monster Hunter Rise: Sunbreak
!
Now, let's swing into action!
Beginner's Guide – Wirebug Actions: Part 2!
Maximising your mobility
In Hunter's Hub #1 we introduced and explored Wirebugs, an endemic life native to Kamura that gives Hunters in
Monster Hunter Rise
unparalleled mobility both in and out of combat.
If you haven't yet, we'd recommend checking it out by clicking
THIS LINK
to bring yourself up to speed with this incredibly flexible hunting feature!
Now that everyone's up to speed, let's look at some of the more advanced Wirebug mobility moves!
Like last time, we'll be explaining each action as if you're using an Xbox controller with default controller layout. For mouse and keyboard, you can simply apply this knowledge to your preferred key bindings.
"Airborne"
Gain some hangtime in the air, giving you a chance to regain stamina, plan your next move and avoid danger.
This move is activated by pressing B on an Xbox controller while airborne.
You can follow-up on this move by pressing a direction on the left-stick and pressing A on an Xbox controller to jump to your chosen location.
Wall Running
Using either the "Aerial" or the "Directional" (as spotlighted in our
first post
) abilities while facing a wall will engage your Hunter in a wall run. This is ideal for traversing terrain, avoiding a charging monster or engaging in an aerial attack to build mount damage!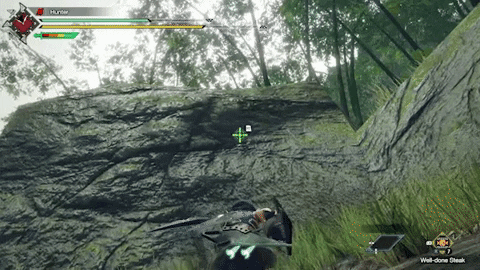 Wirefall
When knocked off your feet by a powerful monster attack, you can expend a Wirebug charge to quickly recover and return to the fight… or find safety!
This move is activated my holding left trigger and pressing A on an Xbox controller whilst reeling from a hit.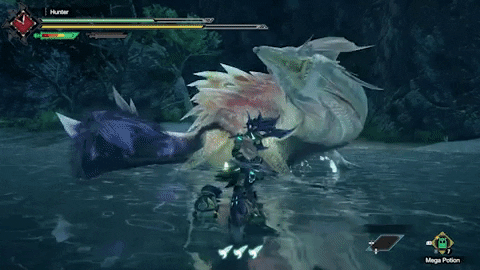 Pro Tip:
You can combine any of the Wirebug moves shown in parts 1 and 2 together to suit both your playstyle and the situation at hand.
That wraps up our introduction to Wirebugs and how you can use them for superior mobility in hunts!
In our next post, we'll showcase their offensive use, Silkbind attacks, and how using them lets you unleash powerful attacks and combos previously unseen in the Monster Hunter series!
A Closer Look - Monster Textures!
As the launch of
Monster Hunter Rise
on Steam draws closer, the team are keen to share with you some examples of the work they've been doing on Monster textures for the PC version of the game.
To get things started on this front we're sharing a look at the Lord of Lightning, Zinogre!

Not to be outdone, you can also bask in the absolute power of Tigrex!

More previews like the above will be released over the coming weeks! To ensure you don't miss out, be sure to follow the official
Monster Hunter Twitter account
and be among the first to see them.
Join the hunt and get ready to face the Rampage!
You can keep up to speed with all things
Monster Hunter Rise
and support the game ahead of launch by adding the game to your Steam Wishlist!
If you're ready to join the hunt and save Kamura Village you can also pre-purchase now:
https://store.steampowered.com/app/1446780/MONSTER_HUNTER_RISE/
Hunters who pre-purchase will also receive:
Palamute Retriever Costume layered armor

Palico Forest Cat Costume layered armor

Novice Talisman for some extra assistance in the early stages
Sunbreak Director Suzuki Update – Small Monster & Motion Capture Details!
Hello everyone!

Here is some concept art for a small monster that was previously shown in the first Monster Hunter Rise: Sunbreak trailer. Note its big fluffy tail! (As this is art from the dev phase, it's different from the final design.)
Also, here's a behind-the-scenes look at our motion capture process. The dynamic physicality and expressiveness from the actors really is something to behold!
- Suzuki, Sunbreak Director
Quest Complete – We'll see you next time!
That wraps up this week's community post! Thanks for taking the time to check it out!
We'll be back in two weeks with the next Kamura Hunters Hub and the last one of 2021! We look forward to talking more
Monster Hunter Rise
with you then!
Did anything catch your attention in this week's post? Let us know in the comments below, we enjoy reading your thoughts and feedback!
Have a great weekend everyone and we'll speak again soon.
- The Monster Hunter Community Team