Hey Hunters,
Today we presented our latest Sunbreak Digital Event, hosted by Monster Hunter Series Producer Ryozo Tsujimoto and Sunbreak Game Director Yosh*take Suzuki, that delved into the exciting new endgame content coming as part of the free Title Update 1!
The best bit? Title Update 1 will be available on Steam from August 10th! That's right, you'll be able to dive into all this new content from tomorrow (or right now if you're reading this after the date)!
For those that didn't catch the Digital Event live, we thought we'd share an overview of what was discussed, as well as the new update trailer. If you'd like to watch the Digital Event in full, which sits at a little over 15 minutes, we'll share a link at the end of the post.
Now, let's get stuck in with the new trailer:

Title Update 1 – Content Overview
As you can see, there's lots of new content coming to Sunbreak, from new monsters and gear to the expansion of the endgame with more Anomaly Quests, the new Anomaly Investigation feature and Qurious crafting!
We'll be touching on those below to give you an idea of what you can expect, so grab your dango and get comfy…
New Monsters and Locale
That's right, we've got four new monsters for you to hunt as part of Title Update 1!
Many of you will be aware of Lucent Nargacuga and Seething Bazelguese, but they're also joined by Gold Rathian and Silver Rathalos, who are more than ready to turn up the heat!
Lucent Nargacuga & the Forlorn Arena
Lucent Nargacuga is a Rare Species of Nargacuga that was last seen in Monster Hunter 3 Ultimate back in 2013!
This Flying Wyvern has the ability to use its bright white fur to refract moonlight, allowing it to become invisible. Think Chameleos, but much more agile! We suggest keeping a lookout for the red glow of Lucent Nargacuga's eyes…
Oh and watchout for this monster's vicious poison attacks too!
You'll be taking on Lucent Nargacuga in its home territory, the Forlorn Arena, a returning locale that's been carefully recreated to preserve and further enhance the foreboding and mysterious ambience of this area…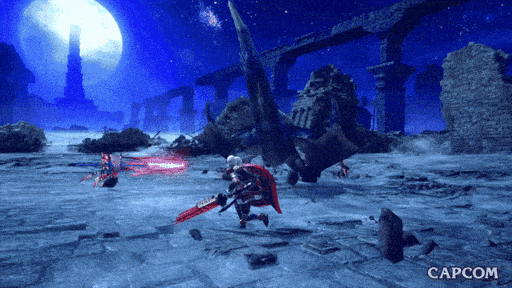 Seething Bazelguese
Seething Bazelguese is a Variant of Bazelguese with a twist, its explosive scales are constantly active, making it much more dangerous than its base version.
Not only that, but it can go into an even more powerful state where it literally seethes with rage where it'll shower the area with critically volatile scales.
Keep on moving and keep a Wirebug handy, just in case!
Gold Rathian and Silver Rathalos
Two more Rare Species have arrived in the form of Gold Rathian and Silver Rathalos!
They can go into a powerful Incandescent state where they'll attack with even more ferocity, raining blue fire down on all that dare challenge them.
The team have also given them both some new moves for Sunbreak, so if you thought you knew them from hunting them in Iceborne, a whole new challenge awaits you!
New Monsters, New Gear!
That's right, all these new monster additions bring with them new armour and weapons for you to craft and wield in the hunt! All of the armour sets that you can forge from materials of the monsters added in Title Update 1 also come with new skills as well, so we hope you have fun trying them out!
Get a closer look at a couple of the sets below:
Embrace the moonlight with Lucent Nargacuga's gear!
Become truly incandescent with Golden Rathian's gear!
Expanded Anomaly Quests
Starting with Title Update 1, the afflicted monster gameplay endgame is greatly expanding!
Hunters will be able to take on A5⭐ Anomaly Quests, bringing with them new afflicted monsters to face:
A5⭐ monsters are unlocked through a new mechanic called Anomaly Investigations. That's right, Investigations are back! Let's delve into the details of how this quest system works in Sunbreak…
Anomaly Investigations
The biggest new addition to Title Update 1 are Anomaly Investigations. Whilst there are some similarities between Investigations in Iceborne, there's some exciting changes that we'll go through now.
All Anomaly Investigations have a set level. As the levels increase, the monsters will become gradually stronger and the rewards you can earn will change!
The quest conditions, such as the target monster, locale and maximum player count are all decided at random too!
Successfully completing these investigations will open new upgrade options for your weapons and armour, so these quests are well worth exploring!
About those weapon and armour upgrades, it's time to introduce…
Qurious Crafting – Weapons & Armour Upgrades
The materials you earn from the new Anomaly Investigations can be used to add newly introduced upgrades to your equipment, yep that includes both weapons and armour!
Weapons
Let's take a look at weapon's first:
With Qurious Weapon crafting you can select the kinds of upgrades you want to best suit your preferred playstyle!
Using Malzeno's Greatsword as an example, you'll be able to upgrade your preferred stats:
Attack Power

Affinity

Elemental Power

Sharpness

Rampage Deco Slots
There is a limit though, so choose carefully!
If you'd like to focus on one or two upgrades in particular, you can choose to further increase their level and effectiveness at the cost of more slots being used up.
This opens up a lot of new options for your weapons, we can't wait to see what you come up with!
Armour
As mentioned, you'll also be able to further upgrade your favourite armour sets and pieces!
Armour can be upgraded with random improvements including defence, resistance and even skill points! If you don't like a proposed upgrade, you can choose to ignore it if you want, so you still have control on what gets applied!
Bahari's Open for Business and Beyond
Bahari the Scientist has opened his Anomaly Research Lab!
The Anomaly Research Lab allows you to exchange the items you've gained from Anomaly Investigations for items that are useful in Qurious Crafting, so it'll be well worth your time paying Bahari a visit!
We're pleased to share that the quest ranks, as well as the monsters that appear for Anomaly Quests, as well as the level cap for Anomaly Investigations will continue to expand and grow with each new Title Update, so get ready Hunters!
Event Quests Return!
You read that correctly, Event Quests return from August 18th! This means new Event Quests every week, with a variety of fun conditions and challenges for you to enjoy.
No monkeying around here!
As part of Sunbreak's Event Quests we'll be introducing extra challenging quests called "Dual Threats". In Dual Threat quests you'll have to hunt two monsters at the same time, such as Gold Rathian and Silver Rathalos.
Can you take down the ultimate power couple?
Event Quest Rewards
Of course, with new Event Quests comes sweet new rewards for you to earn!
We've grabbed an example of just one of the many upcoming rewards below:
Well, some do say that fashion game is the true endgame!
Join The Hunt
If you liked what you say in today's post and are yet to start your Monster Hunter Rise: Sunbreak adventure, you can currently pick up the base version of Monster Hunter Rise at a 49% discount until August 16th!
https://store.steampowered.com/app/1446780/MONSTER_HUNTER_RISE/
Upon completing the 7* Gathering Hub Quest "Serpent Goddess of Thunder" you'll be ready to upgrade to the Sunbreak massive expansion content, including what we detailed today!
Quest Complete – Enjoy Title Update 1!
That wraps up today's Digital Event and Title Update 1 Recap post!
If you liked what you saw, or are keen to learn even more about Title Update 1, it's definitely worth watching the Digital Event in full where Ryozo Tsujimoto and Sunbreak Game Director Yosh*take Suzuki take you through the finer details with new gameplay footage.
Check it out here:

Thanks everyone, we hope you have a fantastic time with Title Update 1!
See you in the hunt.
- Monster Hunter Community Team