Hey Hunters,
Welcome to Hunter's Hub, our new, regular community update where we at Capcom can touch base with you on current community topics right here on Steam. We'll be chatting about
Monster Hunter Rise
and the upcoming expansion
Sunbreak
, and share updates directly from the Monster Hunter team!
As this is our first entry, we're going to be using it as an introduction, but if there's anything you'd like to see the team talk about in future posts, let us know in the comments!
Monster Hunter Rise
is coming to PC on January 12th, 2022 and we can't wait for you to experience a whole new journey here on Steam as you seek to save Kamura from the dreaded Rampage.
We're also very excited about the expansion,
Sunbreak
, coming Summer 2022 and will look to share updates straight from Director Suzuki and the team with you in our future posts!
Beginner's Guide – Wirebug Actions: Part 1!
From the New World to Kamura Village…
With the release of our free
Monster Hunter Rise
Steam Demo, we've seen an influx of both players new to the Monster Hunter series, as well as more experienced Hunters from
Monster Hunter: World
and
Iceborne
!
To all of you, we'd like to extend a huge welcome, we hope you've enjoyed battling the monsters in the demo!
Those of you coming from the "New World" will have likely quickly noticed some differences in hunting methods, Hunters from Kamura don't sport a Slinger or even a Clutch Claw! Instead, they utilise Wirebugs, a beetle that's native to the region surrounding Kamura Village.
These creatures produce a super-strong silk that Hunters can utilise not only for mobility, but also unleashing unique and special attacks with their chosen weapon!
From wall running, to evading, Silkbind attacks and quickly recovering from hard hitting monster attacks, Wirebugs give you unparalleled control and flexibility during a hunt.
By mastering the basics of Wirebugs you'll enjoy a new range of freedom in Monster Hunter, both when exploring and fighting!
To aid you in this, we'll be sharing more details about Wirebugs over the next few posts. This week is all about mobility!
Wirebugs and You – Mobility!
First things first, as a Hunter you'll have access to two Wirebug charges by default. All Wirebug moves in
Monster Hunter Rise
rely on Wirebug charges to use. The good news is these charges aren't finite and recover over a short period of time after each use.
As we delve into the different actions you can utilise around Wirebugs and mobility, we'll be explaining them as if you're using the default controller layout. For our mouse and keyboard Hunters, just apply this knowledge to your preferred key bindings!
Mobility – Basic Movement
Wirebug moves are contextual, meaning you'll get different results depending on whether your weapons are drawn or sheathed.
Non-offensive mobility moves are all performed when your weapon is sheathed, so make sure that's the case when attempting to do these moves yourself!
Wiredashing
Wiredashing is an ability that grants you a quick burst of speed and movement wherever your Hunter facing, allowing you to engage, or disengage from threats.
Keep in mind that these moves are also ideal for traversing the various locales you'll be hunting in, especially when searching for useful Endemic Life!
Every Wirebug move you perform will first need to be initiated by holding the left trigger, also known as the Wirebug button, and then pressing a second button.
Let's look at what moves are available to you below:
"Ground"
Pulling you along the ground, this move is ideal for quickly repositioning in a fight or moving swiftly through the area.
This move is activated my holding left trigger and pressing B on an Xbox controller whilst your Hunter is on the ground.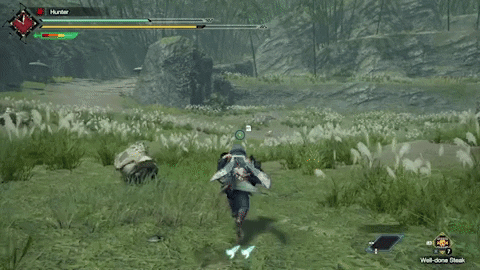 If used whilst in the air, this move will pull you diagonally downwards instead.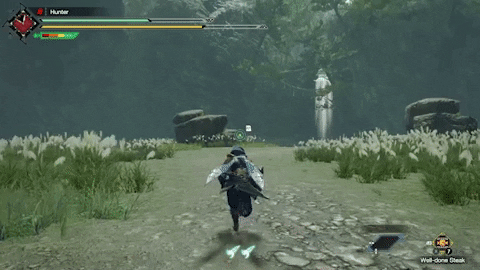 "Aerial"
Quickly gain aerial advantage over your opponents or use it to dodge certain attacks!
This move is activated my holding left trigger and pressing Y on an Xbox controller whilst your Hunter is on the ground.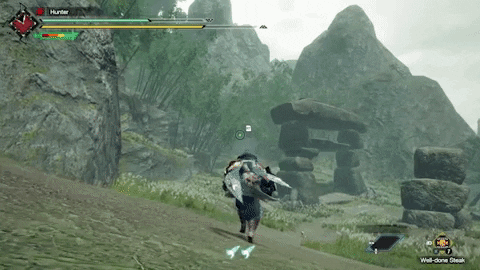 If used whilst in the air, you'll maintain your height and continue moving forward.
"Directional"
Propel your Hunter exactly where you aim, giving yourself a high level of precision whether you're grounded or in the air!
This move is activated by holding left trigger and pressing right trigger on your chosen controller.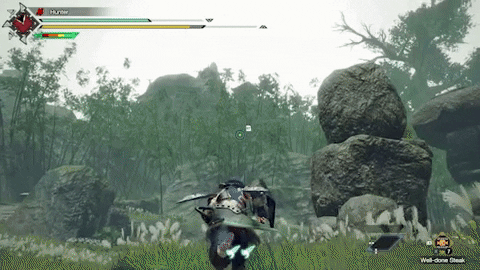 That wraps up part 1 of our introduction to Wirebugs and how you can use them for superior mobility in hunts!
In our next post, we'll showcase even more Wirebug uses both for exploration and use in combat situations.
Monster Hunter Rise – PC Demo Feedback & Bug Reports
Since we released the PC Demo, the dev team have been keenly reading and collating your feedback and bug reports. Thanks to everyone who has taken the time to share what they thought of the demo, including those who, unfortunately, ran into some issues.
Thanks to your reports, the dev team are now able to investigate known bugs.
Please check out our Steam forum thread dedicated to troubleshooting and reporting issues
HERE
.
Join the hunt and get ready to face the Rampage!
You can keep up to speed with all things
Monster Hunter Rise
and support the game ahead of launch by adding the game to your Steam Wishlist!
If you're ready to join the hunt and save Kamura Village you can also pre-purchase now:
https://store.steampowered.com/app/1446780/MONSTER_HUNTER_RISE/
Hunters who pre-purchase will also receive:
Palamute Retriever Costume layered armor

Palico Forest Cat Costume layered armor

Novice Talisman for some extra assistance in the early stages
Meet Suzuki – Director of Monster Hunter Rise: Sunbreak!
Speaking of introductions, we've got someone who's keen to say hi…
"Hello! This is Suzuki, Director of Monster Hunter Rise: Sunbreak. I'll be taking over from Director Ichinose for the next stage of Monster Hunter Rise! Development is currently underway so I'll be here periodically to share more info about Sunbreak! Please look forward to it."
"Today, I've brought you some concept illustrations for our flagship monster, Malzeno.
We started with a general concept, and narrowed down the direction little by little! Note that his final design looks quite different.

- Suzuki"
Quest Complete – We'll see you next time!
That wraps up our first community post here on Steam! Thank you for taking the time to check it out. We hope you liked it!
We'll be back soon with the next Kamura Hunter's Hub, we look forward to talking more
Monster Hunter Rise
and
Sunbreak
with you then!
In the meantime, we'll be reading your thoughts and feedback from the demo on the Steam forums, so keep it coming!
- The Monster Hunter Community Team