The definitive collection of Battlefield™ V content is here. Available as a digital download from October 22, the Battlefield™ V Definitive Edition* brings the ultimate World War 2 experience.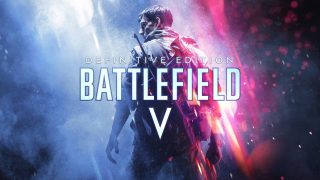 Get the Battlefield V Definitive Edition

Enter mankind's greatest conflict across land, air, and sea with all gameplay content unlocked from the get-go. Choose from the complete arsenal of weapons, vehicles, and gadgets and immerse yourself in the hard-fought battles of World War 2. Stand out on the battlefield with the complete roster of Elites and the best customization content of Year 1 and Year 2.

Battlefield V Definitive Edition contains the Battlefield V base game and the definitive collection of content:
All gameplay content – Get all the weapons, vehicles, and gadgets from launch, Year 1, and Year 2, including the devastating bazooka and lunge mine
All Elites – Bring personality to the battlefield with Elites such as Seamus and Ilse, featuring signature looks, personas, and melee weapons   
84 immersive camo variations – Enhance your WW2 sandbox with outfits such as The Sandman and The Aristocrat for the British and German armies
8 soldier outfits from Year 2 – Including the Offizier and Tommy outfits  
2 weapon skins from Year 2 – Sport the Pacific Palm and Snake Bite weapon skins, applicable to 10 and 4 weapons respectively
3 vehicle dressings –

Outfit your vehicles with unique looks, like the US Sherman

Flagship Flag and German Panzer IV Ready for War dressings    
33 Chapter Reward items from Year 1

– Score the Napalm Weapon Set and Baron von Zorn German outfit and much more.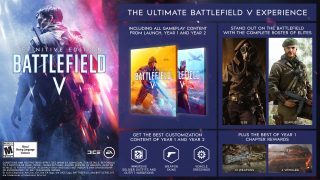 A note regarding Battlefield V Year 2 Edition: with the release of Battlefield V Definitive Edition, the Year 2 Edition will no longer be available to purchase.

Experience the War in the Pacific. Fight on the ravaging battlefields across Europe and North Africa. Choose from the complete arsenal of weaponry. Don the best customization content. Deploy today with the Definitive Edition of Battlefield V.
*CONDITIONS AND RESTRICTIONS APPLY. SEE WWW.EA.COM/LEGAL FOR DETAILS.
See you on the battlefield – and on Twitter, Instagram, Facebook, YouTube, Reddit, Discord, and the Battlefield Forums. Sign up to receive emails with news, offers, and more about Battlefield and other EA products.
This announcement may change as we listen to community feedback and continue developing and evolving our Live Service & Content. We will always strive to keep our community as informed as possible. For more information, please refer to https://www.ea.com/games/battlefield/battlefield-5/news