Welcome to the March Development Update!
March was an exciting month for the team as we finally released the highly anticipated mammal, Paraceratherium. Our early teasers managed to fool some of you with the surprise addition of Juxia, but as expected, the majority of speculation was on point. Great work, everyone! If you missed that update, you can find Paraceratherium (and more goodies) in the Update 6 patch notes.
For the rest of this blog post, we'll be briefly covering the next update and providing the usual insight on what we've been up to. A bit of a relaxed one this month, but nonetheless, quite neat!
Where We're At
The team's been busy working on a myriad of tasks; guest optimizations, new modules, new music and some super boring stuff like yet to be revealed species. Ugh, what a dino-snore, am I right?  
In all seriousness, a lot of our work this past month has either been technical or content that's not ready to be revealed. We've got some great animals lined up for the year, but we aren't looking to begin implementing them until the locomotion and AI overhaul is finished. As a cheeky tease though, it's worth mentioning that Paraceratherium won't be the last mammal you'll see this year!
For now though, let's talk about some of the things coming next in Update 7.
Biome Presets
Biome presets are a new addition that allow players to quickly paint a collection of curated plants from within a biome. Simply select one of the presets and start creating!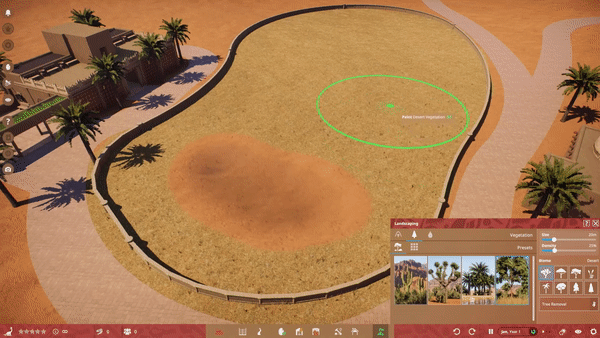 Since many of our biomes feature a lot of plants, players currently spend a great amount of time choosing the right combinations for their park. Presets allow you to quickly grab some common environments in as little clicks as possible.
If you'd still prefer granularity, players can always switch back to see all the plants within a biome. We've updated this view to better make use of space and address some usability issues present in the previous version. Check out the differences below!
New Power Modules & Power Failure
In Update 7, we'll be giving the power system quite a bit of love - finally expanding it to include new modules and the power failure mechanic.
As a result of this update, Challenge Mode is going to play out a little differently. When first starting out, you'll only have access to the essentials; a Diesel Generator and a Backup Battery.
Providing power to the park, a Diesel Generator is cheap but unreliable. Soon enough, it'll begin to fail and require the player to reboot it. This introduces you to our newest mechanic; power failure.
To help keep things running, players can place a Backup Battery within the range of an active generator. This battery will need time to charge off the grid, but once it's ready, it'll provide temporary power the moment a generator fails. 
With the Research system, players can discover new modules with improved power output, range and reliability like the solar panel or wind turbine. 
Though these may be a bit more reliable than Diesel Generators, they can be impacted by temporary environmental factors (e.g. solar panels can't produce power at night). Backup Batteries are key in ensuring the park can remain operational even in downtime.
In the last stage of the Research tree, players can work towards unlocking their final power modules; an upgraded Wind Turbine and Geothermal Power Plant! These large structures reward the player with a high level of reliability and output in exchange for increased upkeep costs.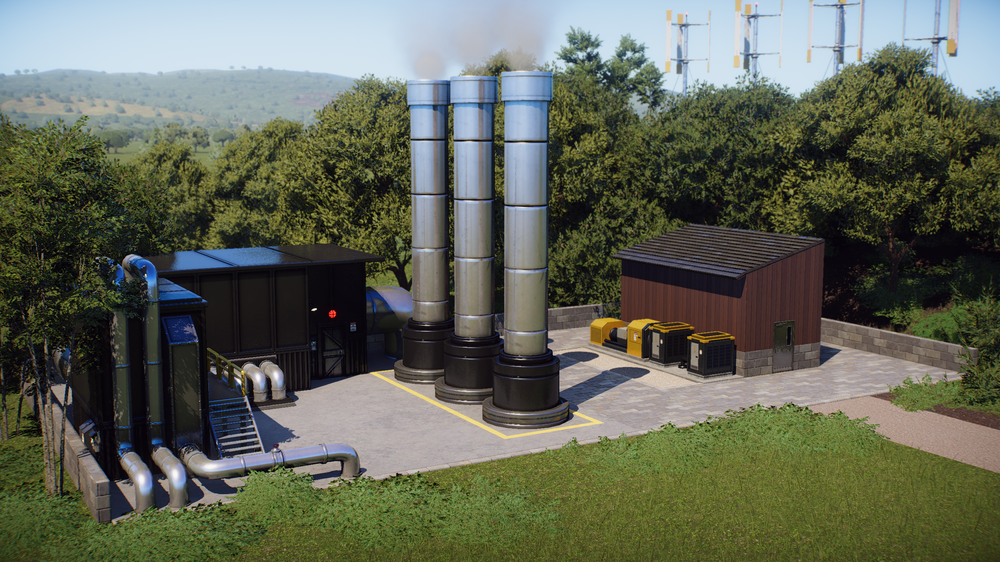 What's in the Pipeline?
For a glimpse at what's coming down the line, let's take a quick look at modular terrain flattening.
Modular Terrain Flattening
When we read feedback about Prehistoric Kingdom, one of the biggest barriers we see pop up is how the terrain interacts with structures, or rather, how it doesn't. For example, terrain slopes are almost completely unworkable without terraforming and for new players who simply want to place down official prefabs, this isn't great! 
Thanks to the help of our newest programmer, we've finally had the development bandwidth needed to tackle this long standing issue.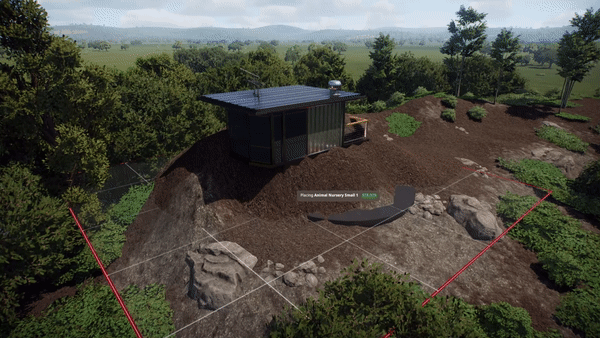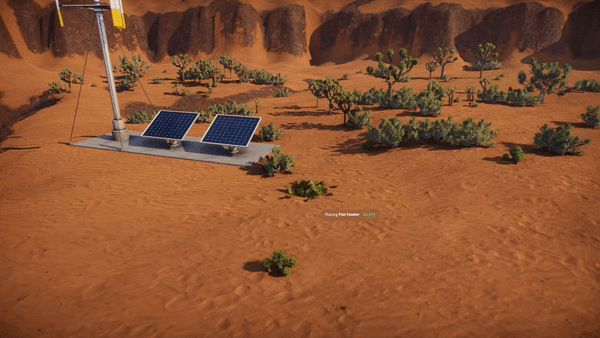 So, how does it work? There are certain pieces that the terrain will adapt to, assuming they're placed close to the ground or under the terrain. Intentionally placing any of these pieces above the terrain's minimum threshold will not trigger the flattening behavior. 
Pieces that flatten the terrain include: 
Modular floor pieces

Modules (e.g. animal nursery, kiosks, toilets, generators, etc.)

Animal interactables (e.g. feeders, enrichment items) 
By allowing only a very focused group of pieces to flatten the terrain, we aim to provide a building experience that feels more grounded and behaves like you'd expect. So far we are very pleased with the results and will be continuing to improve the system before it's shipped.
Created by CasualWoodsman.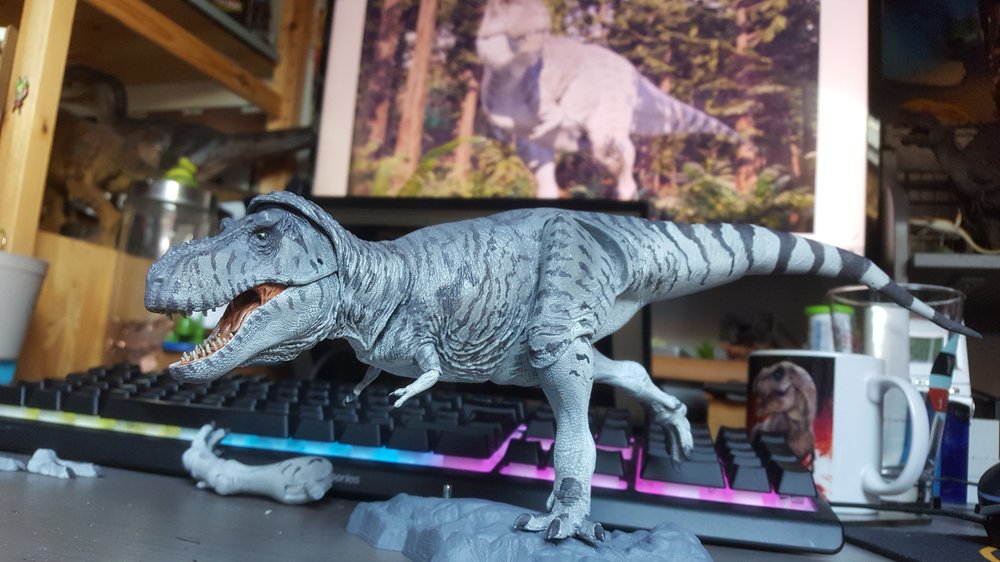 Created by Jirasaurus.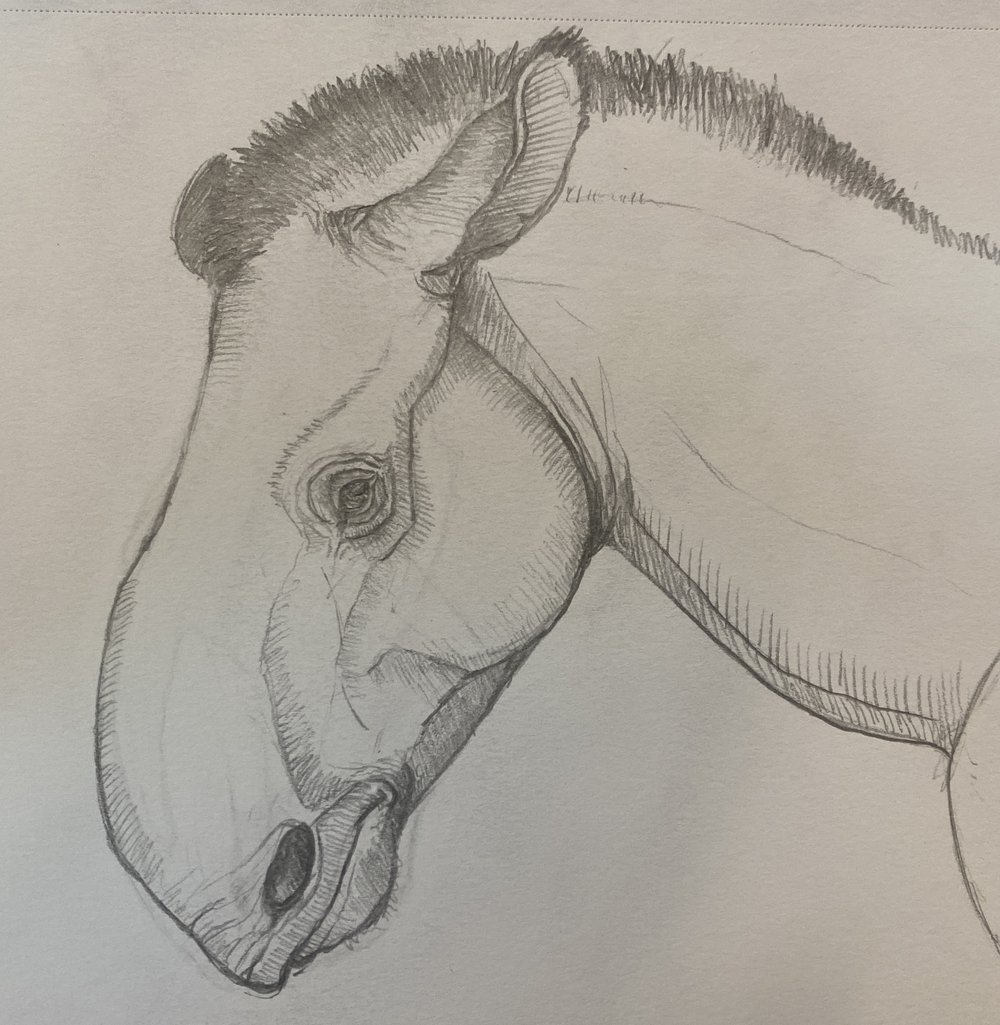 Created by MajorCheirus.
---
Thank you for reading March's dev diary!
Not too much more to say on this one, folks! Hope everyone enjoyed Paraceratherium and we'll see you again in April for the next dev diary (and our Early Access anniversary!).
Until next time, 
- The PK Team