Welcome to the July Update!
In this month's post, we'll be highlighting our upcoming support for Steam Workshop, the next update and future developments.
Steam Workshop
Much to the excitement of many in the community, our next update will include Steam Workshop support for saved games and modular prefabs. 
Getting everything up and running proved to be initially troublesome, but the implementation didn't take as long as we expected. Seeing the Workshop page fill up with some development and community items taken from Discord for testing purposes was incredibly exciting. 
Anyone using a Steam account to play Prehistoric Kingdom can soon easily update or add Workshop items via our in-game tools. We cannot wait to see the community share their wild ideas and creative spark. 
Terracotta Roof Set
Coming to the Tropical theme in our next update, the terracotta roof style provides a whole new decorative flavor for park builders. Offering recolorable tiles, there isn't a shade these roofs can't supply. 
We especially love how easy it is to change the vibe of a building with this new set. Just a few clicks and you've completely restyled your modular group!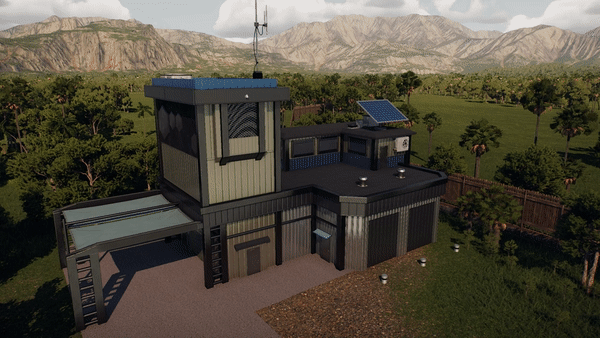 Prefab created by Sticky (Discord)
New Species
Perhaps one of the funkiest little dinosaurs to enter the Kingdom thus far, we would like to introduce you to Scelidosaurus (seh-lid-oh-sore-us). 
Belonging to the family group Thyreophora (thy-ree-oh-for-ah), this small armored dinosaur presents some unique features! Donning a pair of goat-like horns and a spine sheathed in osteoderms, Scelidosaurus lived 191 million years ago in the Early Jurassic. Though traditionally a quadruped, this animal has been observed using bipedal movement to run and survey its surroundings. 
If you haven't been keeping count over the last few months, this means that all three animals coming in our first title update have now been revealed. Coelophysis, Dilophosaurus and Scelidosaurus will be making their way into your parks after the next update. Stay tuned for future announcements and release dates!
Where We're At
Currently, the team is hard at work developing our next update. A number of important changes have been made as well as fixing a number of issues such as the idle Triceratops and further save/load reports. 
For the next update, we'd like to specify what we're actively working on and what needs to be finished in order for us to release it:
Animal Info Signs
2D art assets for the info sign screen are complete. The 3D art (screen, frame, etc.) is still yet to be made but won't take long. For now, we will be releasing the animal info signs with temporary screenshots. In the future, they will contribute to the guest education need.

Main Menu Redux
3D art for the new main menu has been completed. All that remains is to set the scene up in-engine and prepare our new background elements. This is not a "must have" and may be moved into the following update if needed.

Guest Ethnicities
3D art for new guest ethnicities has been completed, introducing new faces, skin tones and hair styles. They still need to be retargeted and integrated into the engine. Another batch of guest ethnicities will be added at a later date.
What's in the Pipeline?
Animal Animations
Our animators have continued to work on a whole bunch of behavioral animations for a number of animal groups. We saw how much the community loved our last showcase, so we thought we'd reveal a couple more!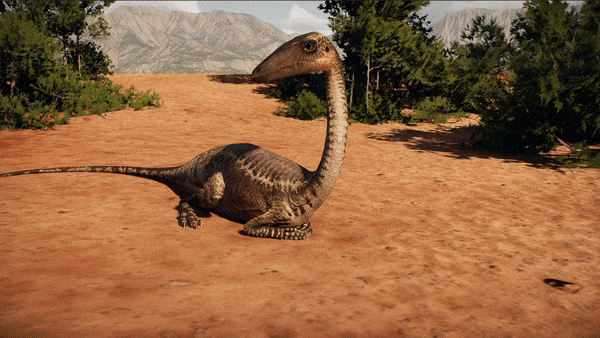 Cleanliness is important! Small theropods can be seen cleaning their bodies and snouts.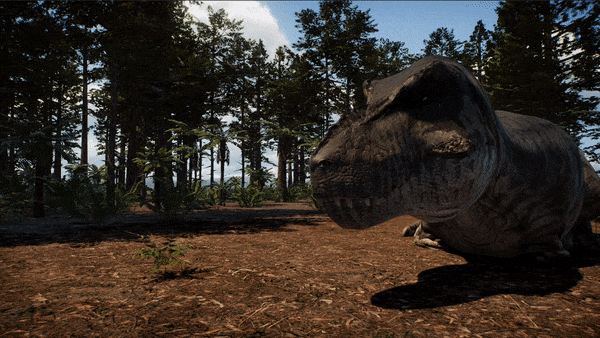 Much to the surprise of our guests, large theropods like T. rex are still surprisingly mobile - even while laying down!
Guest AI
Improved Guest AI is also on track to join our new species in the next big title update. So far, we've added the ability for a guest unit to explore, find a point of interest (e.g. binoculars, shop), use a point of interest, and spend. 
For a long while now, our in-game economy has relied on a passive simulation rather than guests physically interacting with facilities and spending their cash. These changes (in addition to needs) will not only make guests appear more active, but will make our economy much more accurate to what visitors are actually doing. 
Performance Improvements
Performance for the modular rendering system has been majorly improved with the addition of bounds and shadow culling.
Created by Rayne (Discord).
Created by Jolly Good Show My Fair Boy (Discord).
Created by Hiysta (YouTube).
---
Thank you for reading July's dev diary!
The team is super excited for everyone to get their hands on these new updates when they're ready. Keep an eye on our social media for new information regarding releases, news and updates.
Until next time, 
- The PK Team