Closed Beta arrives December 6th 2021 for eligible backers and early adopters!
Introducing new mechanics, features and animals, Prehistoric Kingdom's next closed-release will be available to those who pledged for Beta Access. Our public launch into Early Access has now moved to April 2022 to give the team an extended period for some important gameplay changes, additional content and polish.
We bet you're feeling ravenous to learn more, so let's dive into some of the things you can expect to see in Beta! More features and content will be unveiled closer to its release.
Beta will be arriving with 14 prehistoric beasts and birds to care for! Alongside the species present in Alpha, the park's newest specimens include: Archaeopteryx, Camarasaurus, Deinocheirus, Pachyrhinosaurus, Protoceratops, Parasaurolophus, Torvosaurus and the Woolly Mammoth.
You can find the initial Early Access species roster on our website, here.
Deinocheirus, the Danger Duck!
As the definitive oddball, this giant ornithomimid defies all expectations by sporting a bizarre set of attributes: a duck bill, a humped back, sizable forelimbs equipped with sharp claws, and a larger than life appetite.
To top it all off, this peculiar animal comes with a featherless variant. Would this make it scaly? Leathery? Naked? We're just as confused as you.
Feathered Friends
Flying its way into your heart, Archaeopteryx soars through Beta as the second Mini-Aviary species. Unlike the Microraptor, it sports a striking color scheme and includes sexual dimorphism, making the males ever so pretty!
Found in German limestone deposits dating back to the Jurassic, this magpie-sized critter holds great scientific significance as one of the earliest bird-like dinosaurs.
Additional Animation
As animals are often in the spotlight, it's incredibly important to us to make them look as realistic as possible, and that includes their animations. 
For the past few months we've been hard at work expanding the animation libraries for all our species, including many little actions such as stretching, scratching, shaking, chewing, and more. We hope you appreciate these quality of life upgrades as much as we do, as they help cement the idea that these are living, breathing animals!
In July, we gave our community a survey to find out what our future players would be most interested in seeing.
Your answers were incredibly insightful, as they again confirmed that the direction the game is heading towards is not only close to our hearts, but also true to the community's wishes for the project.
There are a number of upgrades coming, not to mention some rather exciting avenues set to be explored. We're certain you're going to be just as excited for them as we are and we cannot wait to share more with you in the future. The following additions are just the beginning…
The Tropical Theme
Experience the sunny tropics with this brand new theme arriving in Beta! 
Containing over 100 pieces, the Tropical Theme includes a selection of new and exciting decorations inspired by a variety of real-world cultures. Vases, totems, torches and statues are but a handful of some of the props and pieces available in this exciting expansion to the modular lineup. Your prehistoric zoos have never looked so exotic!
Shown above: new railings, benches, braziers, thatch roofs and palm weave floors (one of the new wall sets!).
We can't spoil it all, but please enjoy some of this beautiful scenery created by our concept artist, Ida. The team's putting a lot of work into making sure this theme feels inspiring to build with, and we cannot wait to see what kind of wonderful architecture the Beta community come up with.
Expanded Scenery
Our default theme has been reinvigorated with new props, designs and some much requested pieces. To highlight a few of the most demanded, we believe these miscellaneous pieces will allow players to greatly enrich the authenticity of their zoos!
There are many new items to discover in Prehistoric Kingdom's Beta, ranging from empty buckets to complete sets of ventilation ducts and gutter piping. Not to mention, that fancy new recoloring sure does help a lot!
Particular Particles
Waterfall galore! A highly requested feature, fully modular water effects will be making their way into Beta, allowing builders to create custom waterfalls and fountain features.
For those less impressed by waterworks, smoke and fire are also available. Great for torches, bonfires, and setting the whole park ablaze, right?
Animal Ornaments
Park decor has never been easier than with our brand new dynamic animal statues! These intelligent modules can be manipulated on-the-fly, much like our styling system for walls and roofs.
Players can pick from three different poses for any animal species in the game, complete with a selection of materials to choose from. 
Moreover, an initially limited selection of bones are also available, making skeletal mounts or custom displays entirely possible. This list will only grow with time as we expand our fossilized repertoire!
Science Points
Science Points are a type of economy item used in Excavations and Research*. They're passively accumulated by constructing habitats, scaling in effectiveness based on a number of factors that players work towards. The better the exhibit, the more rewards to reap! 
*Research not included in Beta.
Excavations
Fantastic beasts and where to mine them, or rather, Excavations, are a central mechanic in unlocking your primordial pals and their genetic skins. Scattered across the globe, players use Science Points to seek out their next big attraction. 
Following our Early Access release, Prehistoric Kingdom will continue to see heavy development. We are a small team with big ambitions and it's important to remind everyone that some aspects of the game simply won't be as fleshed out as others for the initial launch. 
We understand that some of you may be frustrated by the move to April 2022, but the reality is that once the game goes live our core infrastructure needs to be locked in place. Any major changes need to happen before then, or else we risk breaking saves or some of the items within them. Breaking save compatibility from Alpha and Beta isn't too bad, but we'd like to avoid it as much as possible during Early Access.
We have a laundry list of improvements and new features that we'd love to add, and the incredible patience of our entire community has allowed us to go above and beyond the original goal in making this game into what it is today. Nevertheless, our limited resources do mean that sacrifices have to made when it comes to development speed and game complexity. We hope that what we have to offer will feel like great value to everyone waiting for the game, and that you'll have an incredible experience despite the size of our development team and resources.
So, what is in store for Prehistoric Kingdom?
Modules & Dynamic Buildings: Your Park. Your Rules.
Modules are special facility pieces designed to create functional buildings and attractions using the modular system. They come in a variety of shapes and sizes, each appealing to different aspects of park management or guest satisfaction with assigned properties. 
Hinted at earlier, the dynamic animal statues are actually a module containing the Amenity and Editable properties, indicating that it both interacts with guests (providing an education bonus!) and is customizable. 
We want to merge the gap between modular building and park interaction, so, you'll be needing new park services!
Modules: Kiosks
Kiosks are an open-air module with a unique 4x2 design, making them friendly for all sorts of buildings, whether they're outdoors or indoors. 
Unlike our current buildings, kiosk modules are defined by their function. Rather than having a unique module in the UI, the Tea-Rex Café is now a Style for the Fast Food Kiosk - changing its service menu, set-dressing and logo in an instant. 
For the Shopping Kiosk, you'll find styles for two of our lovely brands; Apato Apparel and Giganto Gifts! This module provides themed merchandise and shopping opportunities for your guests.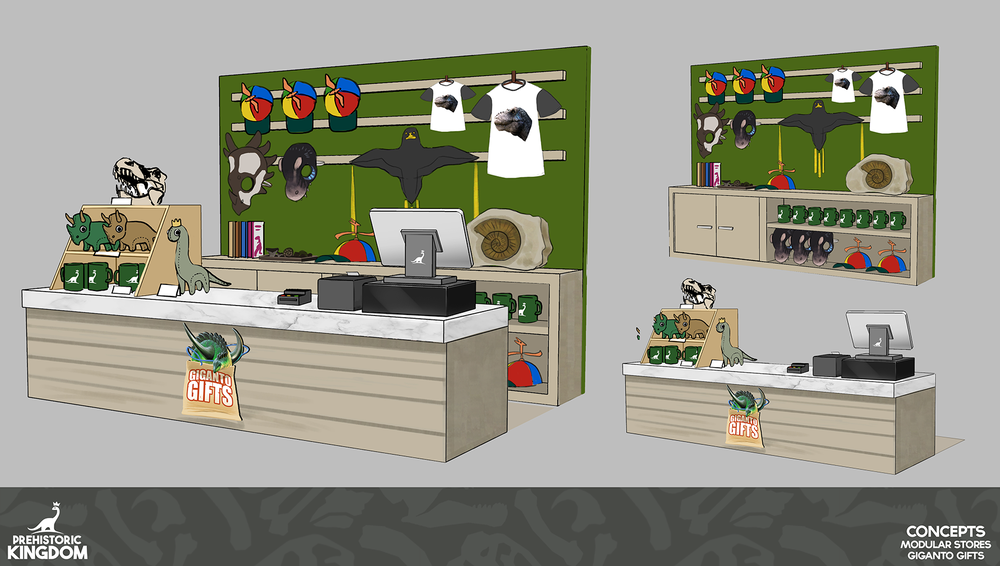 In addition to changing the Style/Shop Brand, players can toggle off the props and back-half of a kiosk, giving way to an even greater number of design options.
The Endgame
We plan to do away with "locked" buildings like in Alpha and Beta, opting for prefabs made entirely with the modular system. This allows players to delete, recolor, restyle or even change the building's function. In essence, every piece of functionality will be handled fully modularly, unlocking limitless potential.
Our goal for Early Access is to develop modules for as many facility types as possible, granting players the creation of custom viewing towers, hotels, nurseries, and more.
However, this does not mean players will be required to build everything by hand! Through the powerful Prefab system, users can instead select from a large array of officially pre-made facilities and decorations to populate their parks with. The workload only decreases, with all the creative options still present. Workshop support is something we are committed to including too, making prefab sharing all that much easier!
Future Update: Paleobotany
Working with zoologist and scientific author, Tom Parker, we're pleased to announce that the team has started pre-production on prehistoric plantlife! 
Though they won't be arriving anytime soon, we wanted to confirm that they will have a rightful place in the future of Prehistoric Kingdom as update content. As this is highly requested content, we're doing everything we can to ensure our eventual lineup caters to species diversity, accuracy and offers unique gameplay opportunities.
The team hopes you're just as excited as we are to eventually plant the seeds for a rich kingdom of prehistoric fauna and flora.
---
Thank you for reading our Beta Announcement!
As you can see, there's a lot to be excited for in regards to upcoming content. Our regular development updates are expected to return in September, though in a more lightweight fashion as we barrel towards the impending Beta and Early Access releases.
It's been a hell of a journey for everyone, but it's finally time to close in for the home stretch.
Until next time, 
- The PK Team