Welcome, park managers!
We're pleased to announce that the long awaited 1.1 Update will be launching alongside the Steam Winter Sale on December 22! If you're yet to jump into Prehistoric Kingdom or looking for a great gift, we'd highly recommend taking advantage of the 20% discount!
In this very special blog post, we'll be giving you an overview of all the major content coming in tomorrow's update.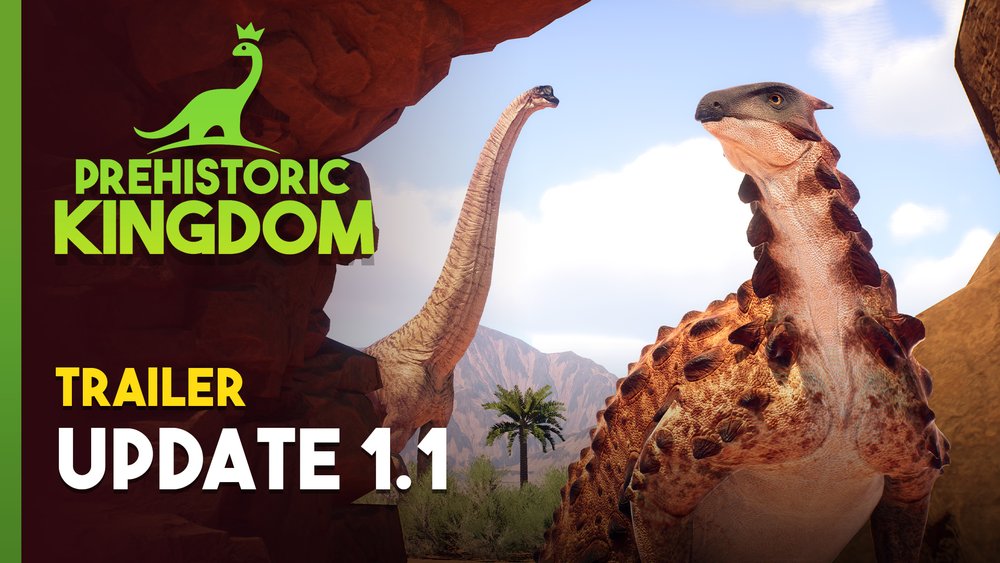 The Jordan Desert
Home to a number of species in Prehistoric Kingdom, the desert biome provides an arid flair not yet seen in any other biome.
Coming with 24 plants and a new map set in the Jordan desert, there's no place like home for the many creatures that once inhabitated scorched prehistoric landscapes.
Animals
Update 1.1 introduces three brand new dinosaurs to Prehistoric Kingdom!
Coelophysis, Dilophosaurus and Scelidosaurus are some of the oldest creatures in the game. Small in size, these animals are perfect for adding more Mesozoic variety to your park. Their rating makes them especially accessible during the early game!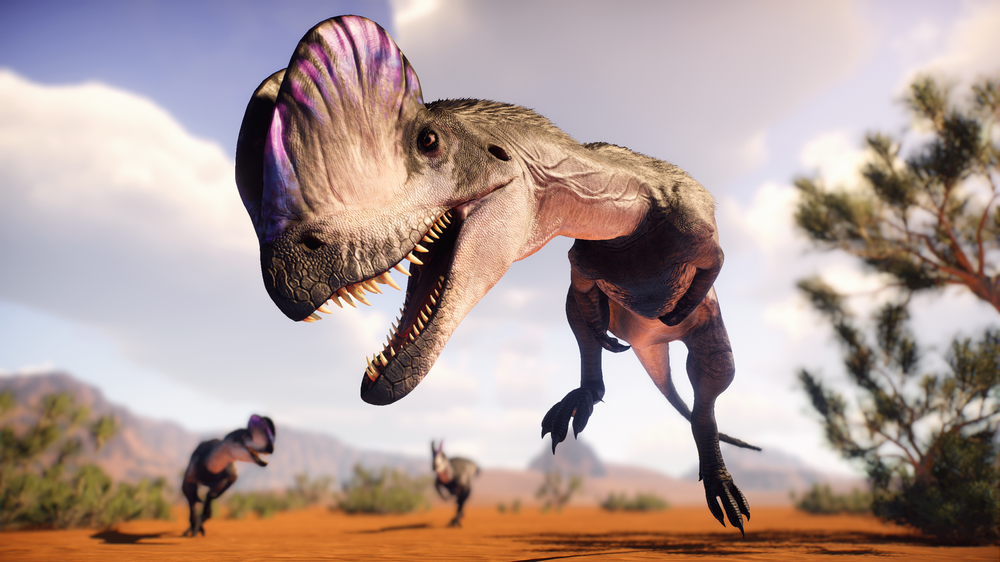 All species are coming with three alternate skins to choose from, with both Coelophysis and Dilophosaurus including a feathered variant.
Behavioural Animations
As shown in the trailer, we've begun adding all sorts of little fidgets, actions and motions for animals to do while idling or resting. This has helped breath new life into our creatures, and we can't wait to bring these animations to even more animals in later updates.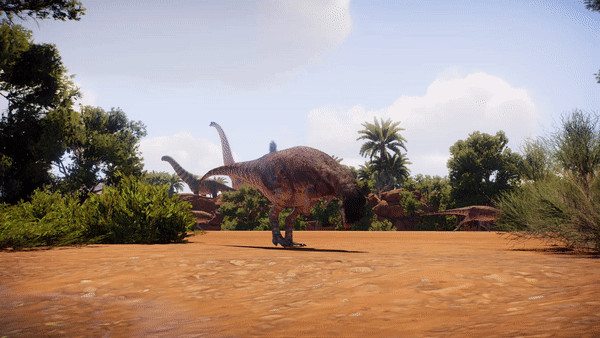 Guests
In Update 1.1, players will now have to consider guest needs! Ensuring visitors are catered to will increase your park rating and keep them in the zoo for longer. Modules such as kiosks, toilets and information signs can be placed throughout the park for guests to interact with and improve their welfare.
Through these improvements to guest AI, our economy has also become more accurately simulated. Each visitor can spend cash when interacting with kiosks and vending machines, putting more of an emphasis on keeping up with their demands to make a profit.
How you build your park will also be more important in this update! With a fancy new avoidance algorithm, guests will actively path around each other while trying to find the shortest way to their destination. If you're not careful, this can cause traffic jams in high density areas.
To help find out what the park needs, this update also adds a new section to the Management View, showing guest needs around the zoo. Players will be able to switch between the 6 different views, with Accommodation modules coming down the line.
Exhibit Viewing
Guests will be able to view exhibits from paths and modular structures, using attraction modules like the Binoculars to see further into the habitat. Observing animals will actively contribute to a guest's entertainment need!
In the future, we will be making this system more advanced to better account for visual obstructions and provide more Management View options for readability.
Scenery
Over 100 new scenery items will be available in our brand new Arid building set. We've taken great inspiration from a number of cultures to provide unique designs that are perfect for building your prehistoric zoo.
This is in addition to our selection of Arid fences, a highly decorative collection of barriers that fit right at home in the desert biome.
There are also a number of non-Arid themed items included in this updated such as a new roof style, roof pieces and tropical fences. We've added some extra mesh details to a bunch of our roof sets so make sure you check them out when the update drops!
Holiday Items
To round out the update, we're celebrating winter festitives with these wonderful holiday items. From snow pieces to a beautifully crafted sleigh, there's quite the variety of decorations to spread festive cheer with.
You can get a taste of some of the pieces below, including the brand new shingle roof. We've had a great year and we hope you enjoy our extra gift to you this holiday season!
Translations
6 new language options are coming to Prehistoric Kingdom! French, Spanish, Portuguese, German, Russian, and Simplified Chinese will be available in the settings menu.
We will continue to update our translations based on user feedback in future updates and may consider additional languages.
---
Thank you for reading the preview for our next update!
Patch notes for 1.1 will be released on the 22nd alongside the update, but apart from that, we're done for the year! This is our last official blog post for 2022 as the team will be on break until early January.
In the next Dev Diary, we'll be reflecting on Prehistoric Kingdom's progress over the past year and where we'd like to go during 2023.
Thank you all for an amazing year, thank you to everyone who has played our game, and thank you to everyone who has given us your phenomenal feedback. We wouldn't be here without you!
Until next time, 
- The PK Team