Welcome to the August Development Update!
In this blog post, the team will be sharing some exciting announcements as well as providing more progress on both Update 8 and Update 9.
Artbook + Mini-OST Announcement
That's right! A digital artbook and mini-soundtrack will be released onto Steam later this year to coincide with one of our next major updates. Whether you'd like to appreciate the work of our artists or listen to some Jurassic jams, we'll have you covered.
THE ART OF PREHISTORIC KINGDOM
Over 100 pages of concept art and insight to the development process, exploring not just animals, but guests, structures and more!

Includes artist interviews, notes and exclusive artwork.

A WALK IN THE PARK: MUSIC FROM PREHISTORIC KINGDOM
30 minutes of music from Challenge mode, the Animal Nursery and opening tutorial.

15 tracks (including 4 bonus map medleys).

Updated arrangements for challenge mode tracks.
Eligible backers and early adopters from both Kickstarter and Crytivo will receive Steam keys to redeem their goods once available. Stay tuned for information regarding pricing, keys and release dates!
Where We're At
Before talking about animals and Update 8, let's quickly discuss how things are going! To start, there've been a bunch of under the hood improvements to improve the game's stability across the board, with many hopefully going on to address numerous crash reports. 
Guests have also been further improved since last month, now including a fully complete queuing system and more fluid navigation. This means that your visitors should be less likely to clump up and must patiently wait their turn to use interaction points. Imagine a conveyor belt, but for humans.
In basically every area, guests are vastly more robust and as a result the economy should be much more stable, too!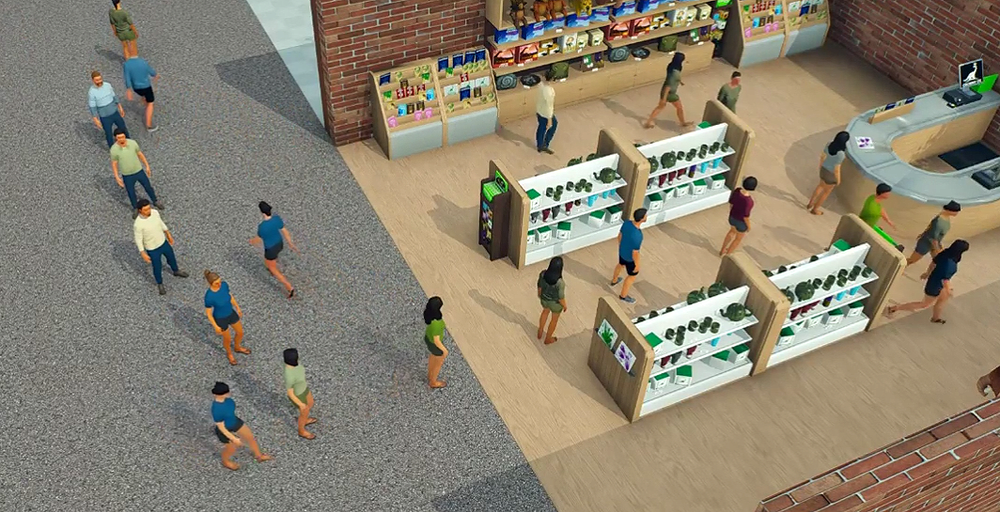 It might surprise you, but all of this work on guests is actually being done in preparation for staff! We're not quite ready to publicly talk about our plans for staff yet, but from a development perspective, staff are functionally just special guests with some unique abilities and navigation rules. 
Once the long-awaited animal rework has been released in Update 8, we'll be diving straight into development on staff, including mechanics for one of the game's new central pillars: logistics management. This is an evolution of the Produce Station gameplay we spoke of in June's dev diary, now better designed to work with staff integration.
Please stay tuned for more news on staff over the coming months, but for now, let's talk animals.
Animals

The animal rework has been progressing very well. We made great headway with animals in August, and have got them wandering around and recognizing interactables with the new locomotion systems. 
Animals make choices depending on their internal statistics like stamina, endurance, health and metabolism. These stats push and pull on an animal's needs, determining when they should rest, find food and how long their meal will last before they must eat again. Seemingly simple mechanics like this weren't part of the old AI system, and will have a huge impact on future features like hunting.
Perhaps the biggest "downside" to all this AI work is that it's very hard to visualize not only in devlogs, but even while we're working on it! To help us, we've built robust editor tooling that allows us to more accurately debug and see what animals are doing.
This viewer shows a series of tasks animals must complete to accomplish their main goal, shifting columns depending on what has the current priority.
Tools like this are crucial as we make animals more reactive and lively. Speaking of, we've been working towards improving how additive and behavioral animations are handled. The goal is to let the AI contextually decide when to play animations so that animals can better express themselves (e.g. socializing, becoming angry, resting) rather than relying on simple timers as per the current implementation.
On top of this, we're working towards a basic herding implementation that will allow animals to form social groups. Each species has its own natural group sizing, whether that's a large herd, organized pack or small pairing. 
The AI will naturally form multiple groups within a habitat if there are too many individuals of a given species, laying the potential foundation for future combat encounters and territorial disputes. This is an area that we'll definitely be expanding upon down the line once fighting is in!
Update Timeline
In a couple of weeks, we should be able to give you a concrete release date for Update 8. Once the systems side of the animal rework has been completed, we will not only need to port the current creatures over, but thoroughly test and ensure they're park ready.
After the release of Update 8, we will be able to return to more regular content drops that add new species, pieces and maps. There's not too much longer to wait!
What's in the Pipeline?
Update 9: New Species
The park's newest guest will be arriving from the land down under… Can you hear the thunder? Say hello to Muttaburrasaurus!
This iconic Australian dinosaur lived during the early Cretaceous period, measuring in at around 8 meters long. Despite walking on only two legs, Muttaburrasaurus can be seen adopting a quadrupedal stance while drinking or going to lay down.
Like other members of its group, this animal is best characterized by its large, protruding nose, giving way to some particularly snuffly vocalizations and snorts! Muttaburrasaurus will be making its way into your parks once Update 9 is released.
Update 9: Swimming
Along with new species, we've also been hard at work creating animation sets for the upcoming swimming behavior. Some animal groups are natural swimmers, graceful and efficient. Others are, uh, thankful they haven't drowned yet. Please look forward to seeing animals hit the water in Update 9!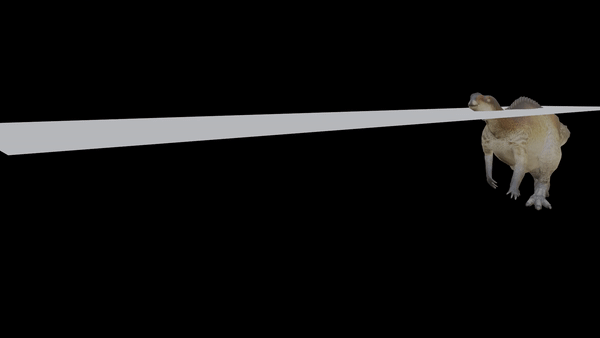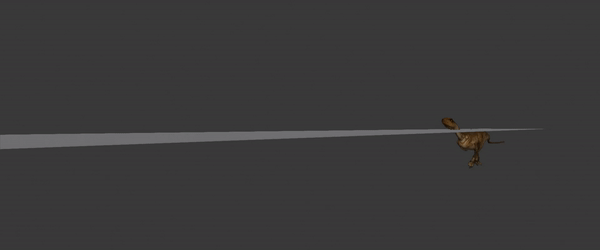 Created by AwesomeAnth.
Created by gemini98.
Created by Mealie.
---
Thank you for reading August's dev diary!
We hoped you enjoyed this month's progress update and that you're looking forward to getting a closer look at the artbook and soundtrack later this year. 
As stated, we expect things to pick up pretty quickly once Update 8 is released. Development has been progressing very well and we anticipate the announcement of a release date in the next couple of weeks.
Until next time,
- The PK Team