Welcome to the May Update!
In this month's post we'll be taking a brief look at what we've been up to over the last couple of weeks as well as sharing some statistics from the first month of Early Access launch.
May was a great month for the team. Having just released into Early Access, we were able to reach brand new audiences (hello!) and read a lot of constructive community feedback. Every bit helps us understand what we could improve and what people would like to see in the future!
Currently, we are working on the game's first Minor Update - a small patch that introduces quality of life improvements and a smattering of content while we work on our much larger quarterly updates. Memory management and loading issues inherent to Unity prevented us from releasing the patch earlier, however we expect it to drop in the next week or so.
Notifications
Sort of like a sibling to the state icons currently in the game, Notifications will alert players to things they should take a look at. Customizable in nature, players can pick exactly what they want to get notified for.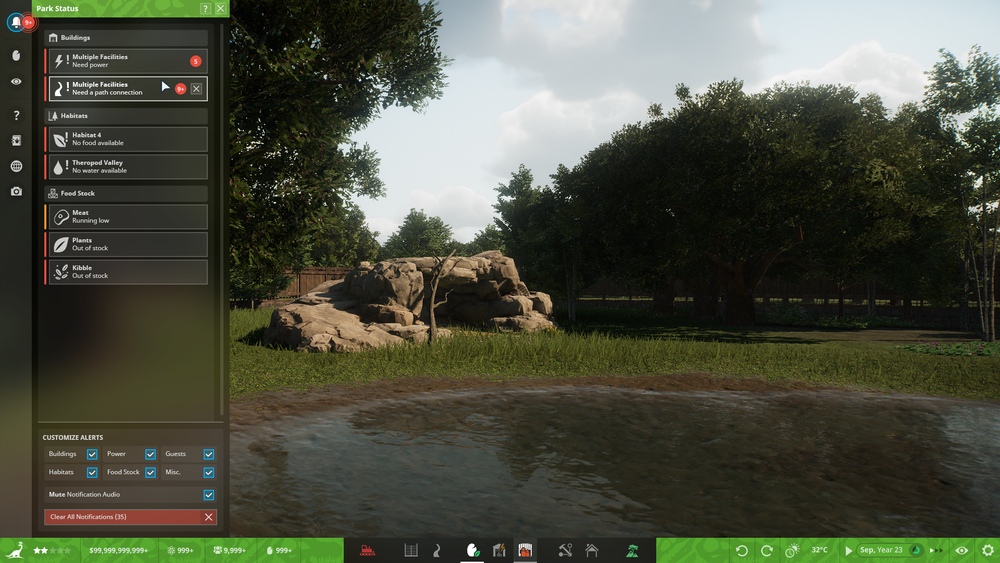 UI Concept Art
Food Production System
Management is an area of the game that we are determined to flesh out as the project develops further. As a small start, Mau worked on our new food production mechanics. Unlike at launch, feeders will now empty requiring them to be refilled.
As you place new feeders and refill old ones, the park's dietary supply will decrease. Keep an eye on your inventory from the Animal Management menu and order new shipments to meet the demand.
With this new system in place, we've added Fish and Insects to the flat feeders to provide additional options for you and your animals. Players can also find two new styles available for the flat feeder: wood and stone.
Nathan, our hard surface artist, created a large and small water trough for animals to drink from. These new items will allow animals like desert dwelling Protoceratops to drink without the need of a lake in their habitat.
Work in progress water visuals.
Animal Nurseries
In May, our concept artist Ida developed new designs for a medium and small Animal Nursery - significantly shorter (and more affordable!) than the large variant currently in the game. These smaller modules will allow for less intrusive facility building.
Habitat Markers & Scenery
Given the creative tools available in Prehistoric Kingdom, it was only a given that the community would want a way to create fully custom enclosures. So, we'd like to introduce… Habitat Markers!
These are a new type of fence that define an invisible paddock boundary. Unlike regular fences, animals are NOT held back by Habitat Markers and will require the usage of terrain, rocks or other methods to keep creatures inside the pen.
As they're so visually different to many other items in the game, creating and noodling around with a custom shader was a real treat. Despite their rambunctious aesthetic, Habitat Markers are invisible during regular gameplay and will only appear when building, selecting a habitat or in the Management view.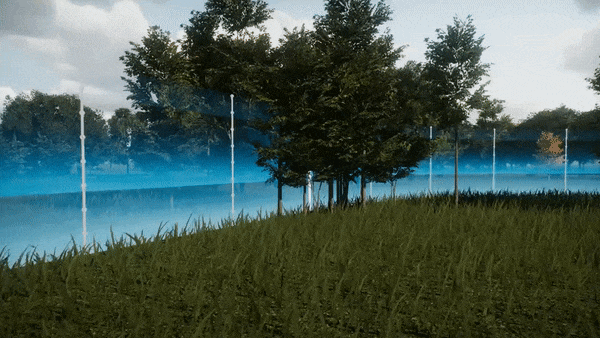 We've got plenty of new scenery items in the new patch, too, including tropical lantern posts, customizable animal silhouettes and beautiful topiaries to decorate your parks. There are so many beautiful concept designs yet to be added, we really think you'll love what we're cooking up behind the scenes.
A blog post will be released once the update is live to show off all the new items. Here's our sneak peek from social media earlier this month:
---
State of Development
Early Access Launch
The Early Access launch was certainly an exciting event for the team! We had a peak of over 2,500 concurrent players with over 40,000 total unique players in the first month.
Three hotfixes were released that included general bug fixes, improved memory performance, and small rendering improvements that were especially notable on low end machines - but the optimization doesn't end there!
Ongoing Optimization
We've still got some further room for memory optimization, and after extensive testing on all of our rendering systems, we were finally able to pin-point the heaviest GPU hitters. This has allowed us to create internal optimization plans so that we can work towards more performance improvements alongside the planned content updates.
Part of this effort includes the removal of our previous weather package in favour of one that not only looks better, but has shown significantly improved rendering performance on some of our test systems (+15-50%). Please make sure to try out different graphical presets to find what works best for your system.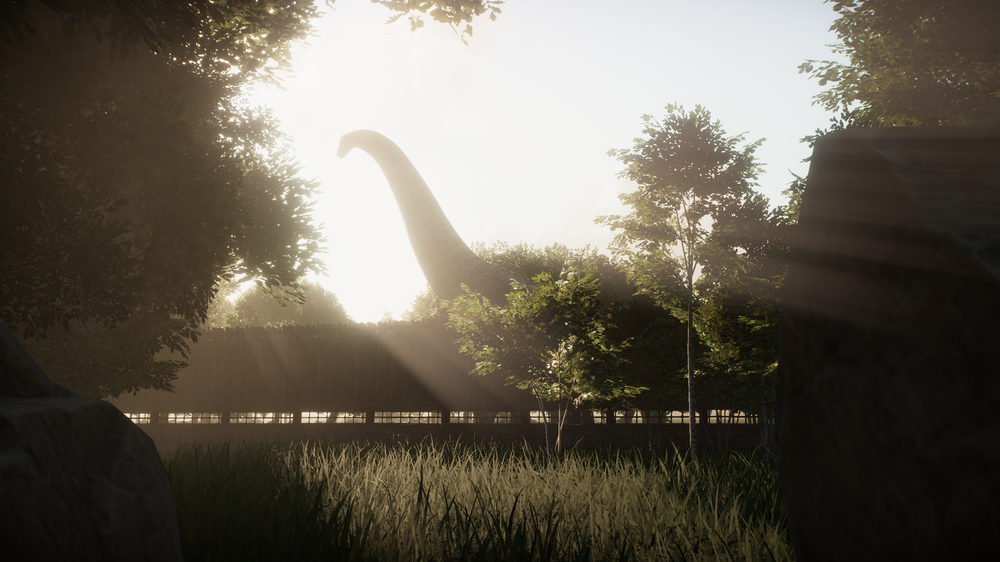 Improving Animals
With Early Access out in the wild, we have begun putting more resources into improving animal movement which is the backbone of developing better AI. You will see more from this in the future as the locomotion overhaul is currently slated for our first major update (July).
Catch Us Live!
This month we also started streaming regularly on Twitch. Every Monday members from the team go live to share behind the scenes exclusives, announce new updates or just play some Prehistoric Kingdom and chat with you all!  We're planning future key giveaways and competitive build-offs with the devs, so tune in to watch the chaos unfold!
---
Upcoming Developments
New Species
The first species announced for the quarterly update in July is…  Dilophosaurus! With its signature double crests acting as a flamboyant mohawk, this carnivore is ready to make an entrance in every prehistoric park!
One down, two more to reveal… what could they possibly be?
Upclose look at some of the detailing on our Dilophosaurus.
You can view our Public Roadmap on Trello that highlights some of the new upcoming features & improvements that we have planned for Early Access.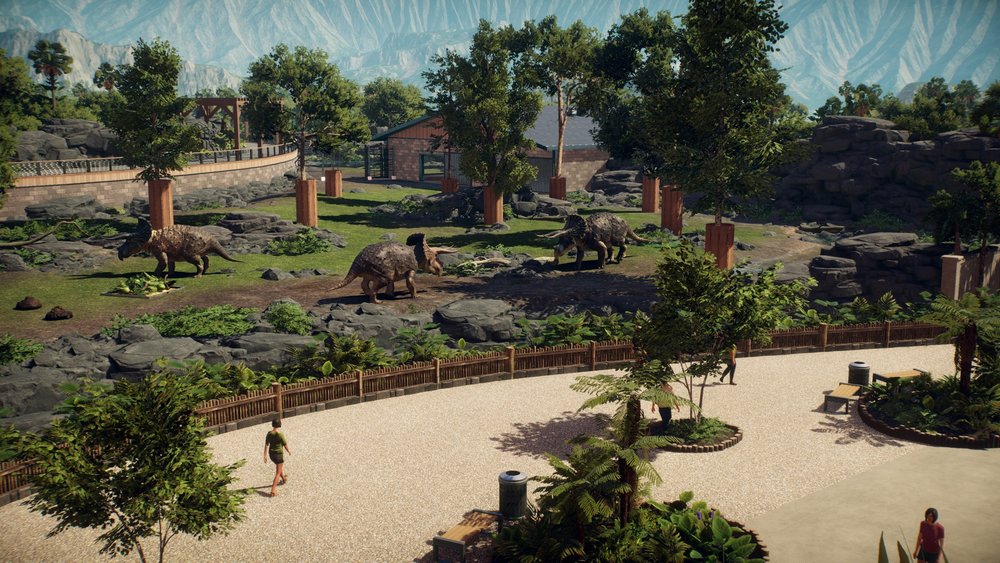 Created by Cesar Creates.
Created by Black Heron.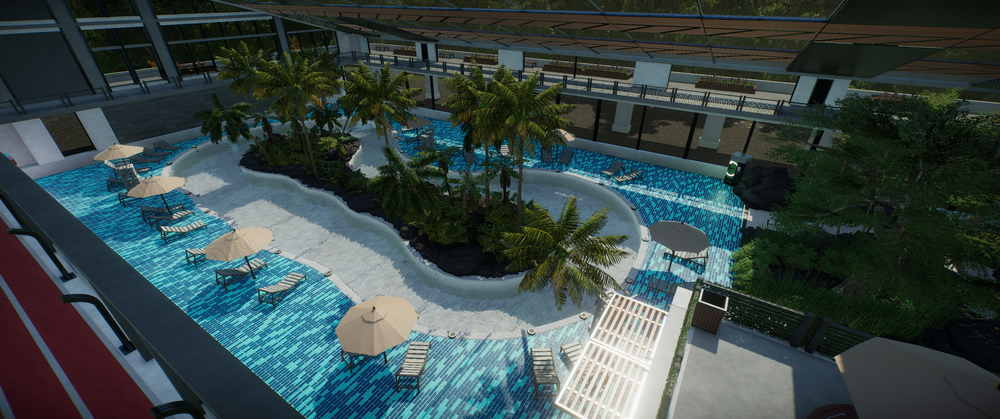 Created by Aresuft.
Created by PoisonBlade.
Created by Moral_.
Created by AtakGames.
---
Thank you for reading May's dev diary!
We're ecstatic to have so many players enjoying our game and waiting for new updates. Everyone here at Blue Meridian is extremely excited to continue the journey through Early Access and build a great experience.
We'll be releasing an FAQ in June to try and answer the community's most burning questions.
Until next time, 
- The PK Team