Welcome to the June Update!
We hope everyone had a very Happy Pride Month! June was a busy time for the team as we released Minor Update 1, but we're continuing to push onwards with new developments. And, just maybe, new species.
So, let's talk about updates! Next up is Minor Update 2 - a smaller patch that includes a handful of new items and improved guest visuals.
Following this will be Major Update 1, the first big content update during Early Access. Featuring a new map, biome, animals, building set and more, we'll reveal the exact contents and theme behind the update in a dedicated Feature Focus prior to release, so stay tuned!
New Species
In the meantime, we think it's time to unveil the next sharp-toothed animal joining Prehistoric Kingdom's roster…
Say hello to Coelophysis! Don't be fooled by this slender carnivore. With its exceptional vision, high speed and sharp teeth, this small predator makes for a terrifying ambush!
Found as far back as the Triassic period, Coelophysis will be the oldest animal in Prehistoric Kingdom as of Major Update 1. Despite its old age, we think it still looks pretty darn good!
Animation
Along with bringing new members to our prehistoric lineup, the first Major Update introduces the first wave of behavioural animations. These special actions provide a fresh level of richness and personality beyond the additive animations already in the game. We want our animals to do things, even when they're not walking or running around!
These new animations are an exploration of animalistic behaviour and will help to build character for the various family groups of Prehistoric Kingdom. As this is a lot of animation and audio work, behavioural animations will be rolled out for new and old family groups across a number of updates beginning with Major Update 1.
Please enjoy the example of two behavioural animations below. We can't wait for you to discover them all!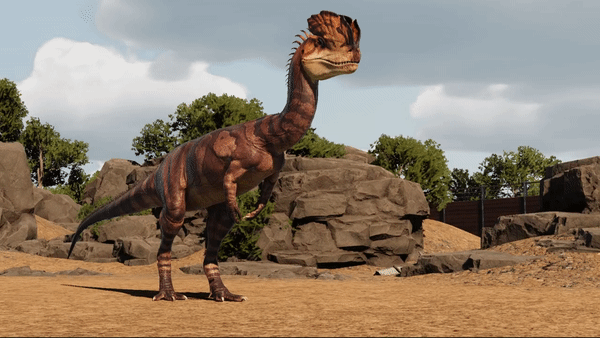 Some park managers have observed smaller theropods practicing their pounces as a form of play.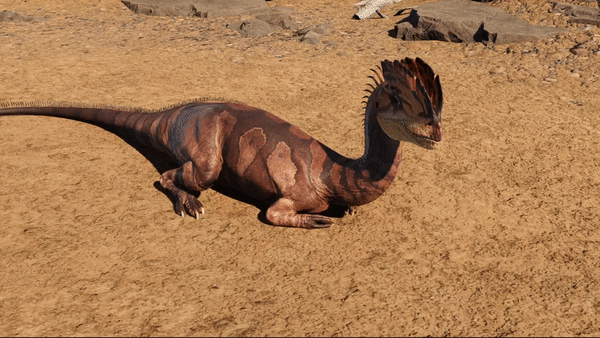 Rolling can help scratch some tough to reach spots!
Ensuring the animals are lively and interesting to watch is a long term goal of ours that will require ongoing development. Major Update 1 will see the overhaul of animal locomotion which is a necessary step in supporting more advanced pathfinding and AI behaviours. Animals interacting or simply acknowledging each other has been a huge community request and we will keep working towards that.
Behind the Scenes: Making a Dilophosaurus
This month we've got an extra treat for you all! Our 3D animal artist Cindy recorded various stages of her work on the Dilophosaurus - unwrapping, sculpting and painting a previously unseen skin. You'll have to wait and see what the finished design looks like though!
If you'd like to see more behind the scenes content like this in the future, be sure to let us know!
---
State of Development
After initial delays with the first Minor Update (released mid June), we've readjusted our current roadmap accordingly so that players can continue to follow our development plans and know when to expect the next update. You can view the updated roadmap here on Trello. Players can also expect the tutorial to return shortly after we've resolved unexpected issues caused by the last patch.
In terms of general development tidbits, here are some bullet points we'd like to highlight:
We are working on a follow up patch to Minor Update 1, adjusting the feed balance and addressing some miscellaneous issues (loading, visuals, etc.)

Steam Workshop support is a highly requested feature that we will be working on soon. We're eager to launch workshop support so that players can conveniently share all of their unique builds and create a community together. 

We have begun working on guest AI and management for Major Update 1. We are very excited to bring more management gameplay into the fold over the coming months. 

We are still working on further optimizations for loading speed and rendering.
Created by Evolve (Discord).
Created by Magnanimous_Matt (Discord).
Created by POTPdeluxe (Twitter).
---
Thank you for reading June's dev diary!
The team hopes that everyone's excited to see more from our future updates and learn who the mysterious third animal could be! Exciting times ahead, park managers!
Until next time, 
- The PK Team