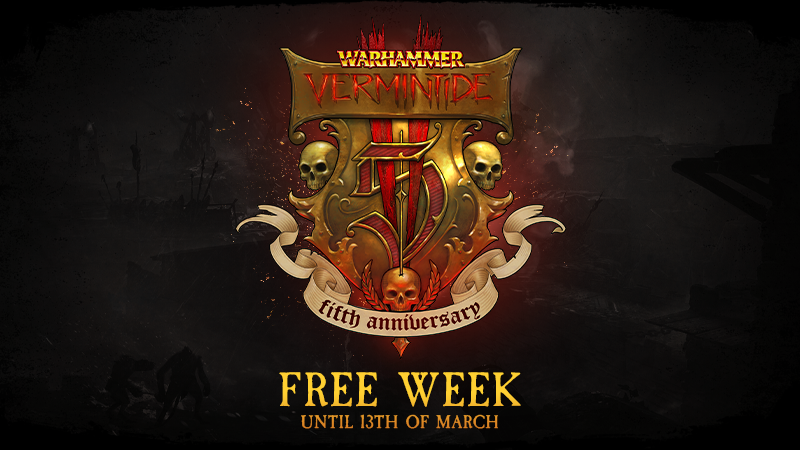 Heroes!
From March 8th until March 19th we're celebrating the 5 Year Anniversary of Vermintide 2!
Not only is Vermintide 2 FREE for anyone to play this week, you can also avail of Triple XP until the event ends on March 19th. Never has there been a better time to recruit a friend in to your Skaven-smashing crew! And whilst you're at it, earn a fancy new portrait frame and join the Ubersreik Five on their quest to have a 'Quiet Drink' in the time limited event mission.
A Quiet Drink invites players to celebrate by drinking their fill in Helmgart's local tavern, only to find it overrun by ratmen. Players must traverse the town (with ale goggles on) to find their next drink while clearing Helmgart's infestation of Chaos along the way.
Also coming up this week you wont want to miss our Dev Stream where we'll be sitting down and sharing good times with some of the folks who bring life to the Heroes of Helmgart, our beloved Voice Actors! Tune in over on
http://twitch.tv/fatsharkgames
at 16:30 CET on March 9th!
We've also just put live Patch 4.8.5 - this patch contains a handful of localization fixes for Russian players, and a fix to correct the cheeto-dust-coloured Skaven, but the bulk of it is preparing our systems for the upcoming anniversary event.