This game includes optional in-game purchases of virtual currency that can be used to acquire virtual in-game items, including a random selection of virtual in-game items.
Well, Legends? Let's dance! The Veiled Collection Event will start from April 25th to May 9th and is packed with gorgeous cosmetics to earn and a brand new limited-time mode that puts a fun twist on Team Deathmatch. Read on and learn more about the details of the event.
NEW LIMITED-TIME MODE: TDM UNSHIELDED DEADEYE
TDM Unshielded Deadeye is a twist on Team Deathmatch with Legends wielding limited, rotating loadouts each match to prove their skill. Every match loadouts will be randomly given so players will start with one of the following weapon sets:
Wingman and 30-30 Repeater
Hemlok and G7 Scout
Kraber and Sentinel
Care packages are turned off and players will have no shields or helmets. The first team to 50 kills wins and will reveal the true Champions among Legends. 
VEILED COLLECTION EVENT ITEMS
Unlock 24 explosive limited-time cosmetics, with Legendary skins for Wattson, Rampart, Gibraltar, and more. 
All 24 items will be available in exchange for Apex Coins or Crafting Metals and in Veiled  Collection Event Apex Packs for the entire duration of the event.
If you unlock all 24 cosmetics in the collection before the event ends, you'll automatically receive Caustic's new Prestige skin, "Apex Contagion"! 
REWARD TRACKER
You can earn up to 1,600 points per day and challenges refresh daily. All these challenges also stack with your Battle Pass so you can complete multiple challenges at once.
STORE TAB
Explore limited-time offers in the Store tab including Gibraltar's Court Executioner bundle and don't miss out on Pathfinder's Elegant Mechanic skin available from April 25th to April 28th or Ash's Synthetic Huntress bundle available May 5th to May 9th and much more.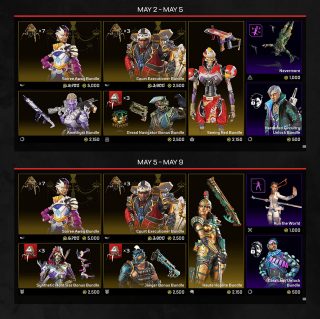 RANKED ARENA REWARDS
To all our Ranked Arena legends, we want to remind you to log in before the start of the next season to redeem your rewards. Claim your Ranked Arena rewards before they expire, and jump back into the game!
---
Play Apex Legends for free* now on PlayStation 4, PlayStation 5, Xbox One, Xbox Series X|S, Nintendo Switch, and PC via the EA app and Steam.
Follow Apex Legends on Twitter and Instagram, subscribe to our YouTube channel, and check out our forums.
Sign up for our newsletter today to receive the latest Apex Legends news, updates, behind-the-scenes content, exclusive offers, and more (including other EA news, products, events, and promotions) by email.
This announcement may change as we listen to community feedback and continue developing and evolving our Live Service & Content. We will always strive to keep our community as informed as possible. For more information, please refer to EA's Online Service Updates at https://www.ea.com/service-updates.
*Applicable platform account and platform subscription (sold separately) may be required. A persistent internet connection and EA account required. Age restrictions apply. Includes in-game purchases.