This game includes optional in-game purchases of virtual currency that can be used to acquire virtual in-game items, including a random selection of virtual in-game items.
NEW UPDATES COMING WITH APEX LEGENDS: ARSENAL
With a fantastic fourth anniversary in the books, we're bringing an Arsenal of updates this season. Fear of Fragment? We've got some rejuvenations for World's Edge that are sure to improve drops of all spice levels. But wait, there's more including the debut of Weapon Mastery, robust updates to the Firing Range, the debut of the Evac Tower, and more!
WORLD'S EDGE MAP UPDATE
With this update we aim to improve the overall Battle Royale experience and bring a healthy set of changes to World's Edge in Arsenal. Starting off with our new Point of Interest, Monument.
NEW POI: MONUMENT
One of the hottest topics for World's Edge is Fragment East and West. This season we have decided to make some changes starting with our new POI, Monument. We know Fragment is a polarizing spot on the map, and we also like it to boot. Our goal was to be delicate and add something fresh to the long-standing map center.
Fictionally, Monument stands as a testament to the Apex Games. Its museum celebrates Apex's past, present, and future. It's a shining beacon to us on the dev team. A glowing reminder for how far Apex Legends has come since its initial debut in 2019.
The Monument Project has been brought to you by Silva Pharmaceuticals—paving the way to a brighter future at the Edge of the World.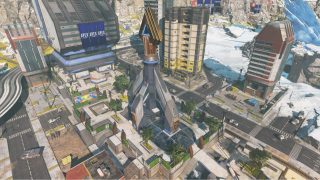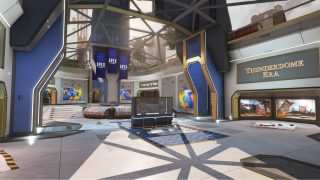 From a design standpoint, Monument is a deep bunker with a quick access sniper nest for positional control and scouting. The glass ceiling brings an interesting component to the vertically layered fights this space offers. It's a different pace to the familiar collapsed map center and we hope you enjoy it. 
That being said, we did make one more big change to Fragment….
NEW POI: STACKS
In our efforts to balance the map's landing distributions, the tower of the sweat lords had to go. You know the one, built like a stack of pancakes with two ziplines on either end: Fragment's infamous Construction Stack. Don't worry, it's not gone; we just moved it.
Now introducing - Stacks! Our new Point of Interest on the southern edge.
Built like a red velvet layer cake, Stacks is a crow's nest that's all about verticality with its interconnected rooftops replacing the long-forgotten Lava City. Positioned right next to Rampart's Big Maude, we plan for the counter play here to be high. Did someone say cat and mouse?
LAVA UPDRAFT IS NO MORE
In this Season, we have completely removed the "vertical updraft" movement system from World's Edge. This floaty state above deep Lava Fissures was a remnant of World's Edge that is no longer needed with our recent map adjustments. To compensate, we have raised the lava floor and it is now walkable. Be careful, it's hot.
HARVESTER UPDATE
After removing the lava updraft, it was logical to improve the landing experience at Harvester. Threading the needle through the building's central tube will now bring players to a safe landing platform. "Safe" but also surrounded by lava.
This loot honey pot also provides a new shortcut. You can now catch a zipline across Harvester's circular arena from below, adding a new approach to fights here. We've also created a new vertical connection. An open window that allows players to jump from Harvester's center room to the platform below. It's a risky escape route for when your squad is being pinched by predators.
NEW VAULT NEAR SKYHOOK
We've added an additional Vault for balanced Vault distribution. This North vault is nestled in a tunnel leading to Skyhook. Vault key drops have been increased; Vault loot has been relaxed. Loba mains rejoice.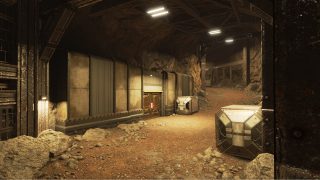 SNOW IN SKYHOOK
Hammond's Climatizer technology has made advances cooling the region down. Additional Climate Seeding Towers have been installed near Skyhook to further their efforts. As a result, Skyhook has received a fresh dusting of snow, opening new pathways and injecting some new life to the area.
MIRAGE A TROIS
This Party POI has left the previous Season's maps and has now settled in World's Edge.
WEAPON MASTERY
Weapon Mastery is our first new long-term progression system outside of account level! As we look to make Apex Legends more approachable for new players, this system incentivizes them to learn about the strengths and character of all our weapons. The goal here was to deepen player engagement across the board regardless of who you main or which mode you prefer.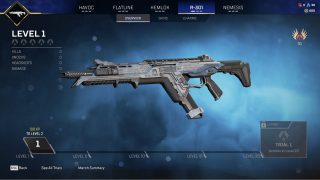 When the feature launches, all players will start with every weapon at level 1 and can start progressing their weapon levels by using them in any game mode. These levels are account wide and do not reset with seasons. Having a weapon in hand, dealing damage, securing kills, and fighting with style will all generate Weapon XP for that weapon. Every 20 levels, a weapon specific trial will unlock for you to test your skill with that weapon and reward you for completion. Get your weapon to level 100 and finish all five trials to fully "master" that weapon and earn the final rewards. Each weapon mastery track will earn players weapon-specific badges, lifetime performance trackers, Legendary weapon mastery banner frames, and a guaranteed Legendary skin for each weapon.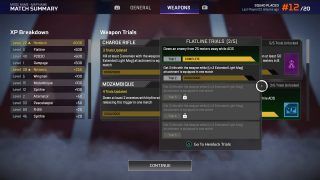 FIRING RANGE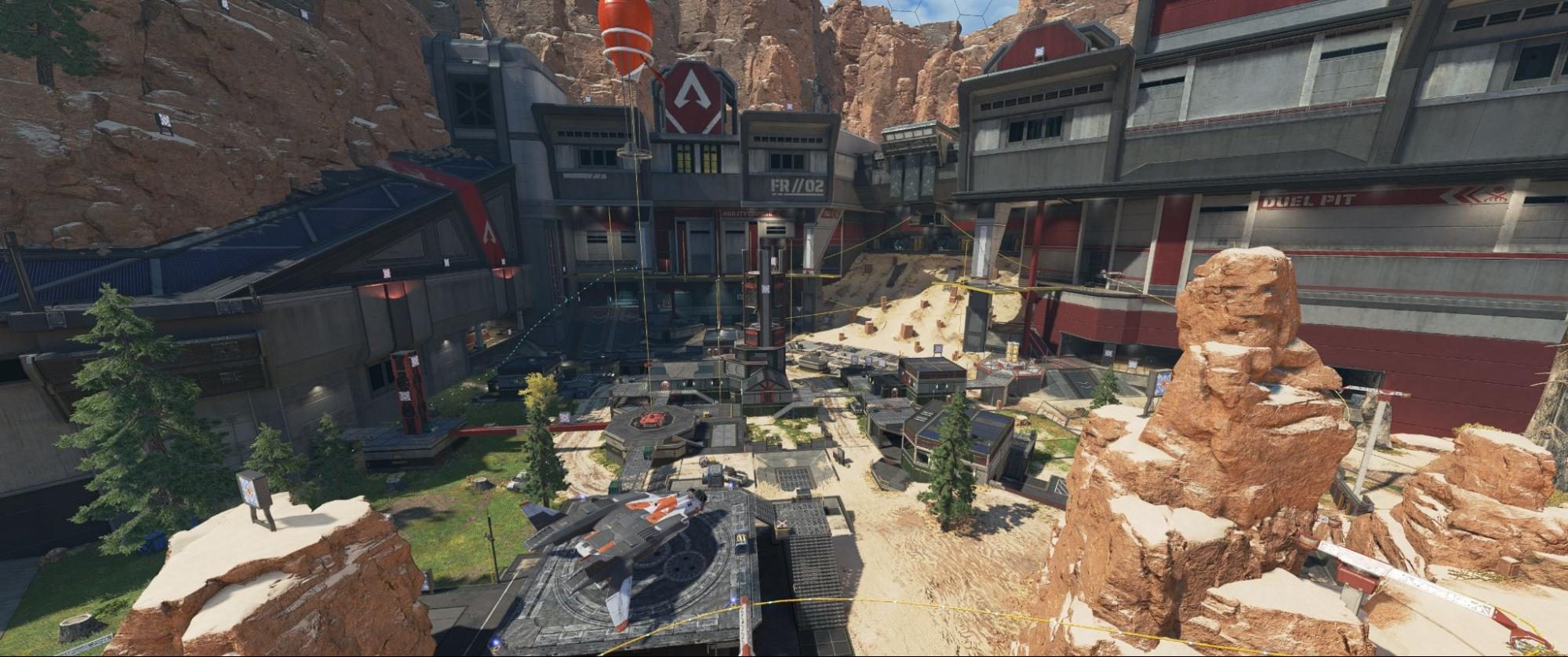 This season, we are debuting an all-new Firing Range, re-design from the ground up as your ultimate evolving training platform. Learn, experiment, practice, improve!
Familiarize yourself with Apex Legends 
Warm up before matches
Sharpen your shooting and movement skills
Experiment with weapons, attachments and gear 
Develop and hone tactics with your squadmates
Practice combat in duels with friends, and against combat dummies that shoot
However you'd like to sharpen your skills, the ever-expanding tools and features will have you covered!
COMPLETELY OVERHAULED LAYOUT
The Firing Range has been completely re-designed with one core idea in mind: flow. We have expanded the space to give you more room to play. From a reorganized Core to a new Agility Course, Duel Pit, and POI sized town, this new space is built from the ground up for skill expression and skill development.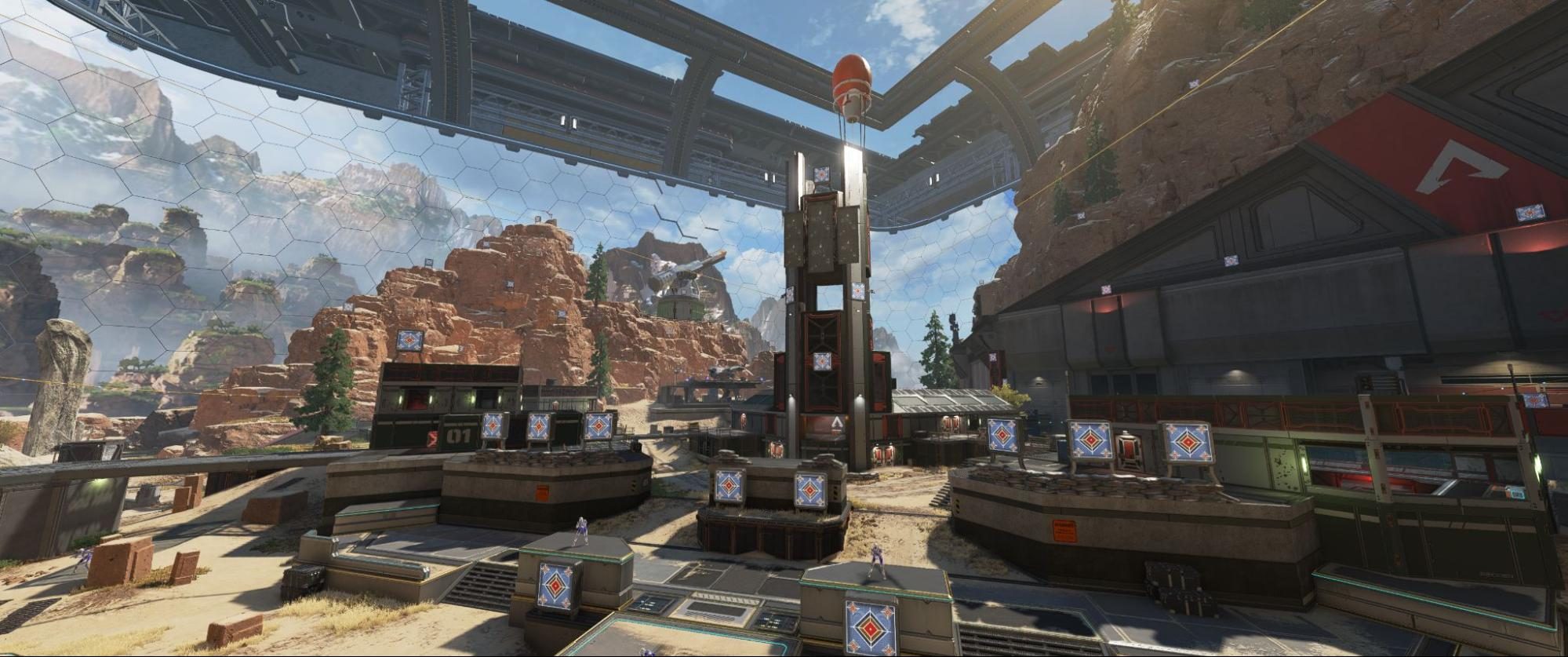 Core: a reorganized Weapons & Loot layout allows players to find what they're looking for quickly and efficiently. Simulated death boxes allow you to grab your favorite loot from anywhere in the Range.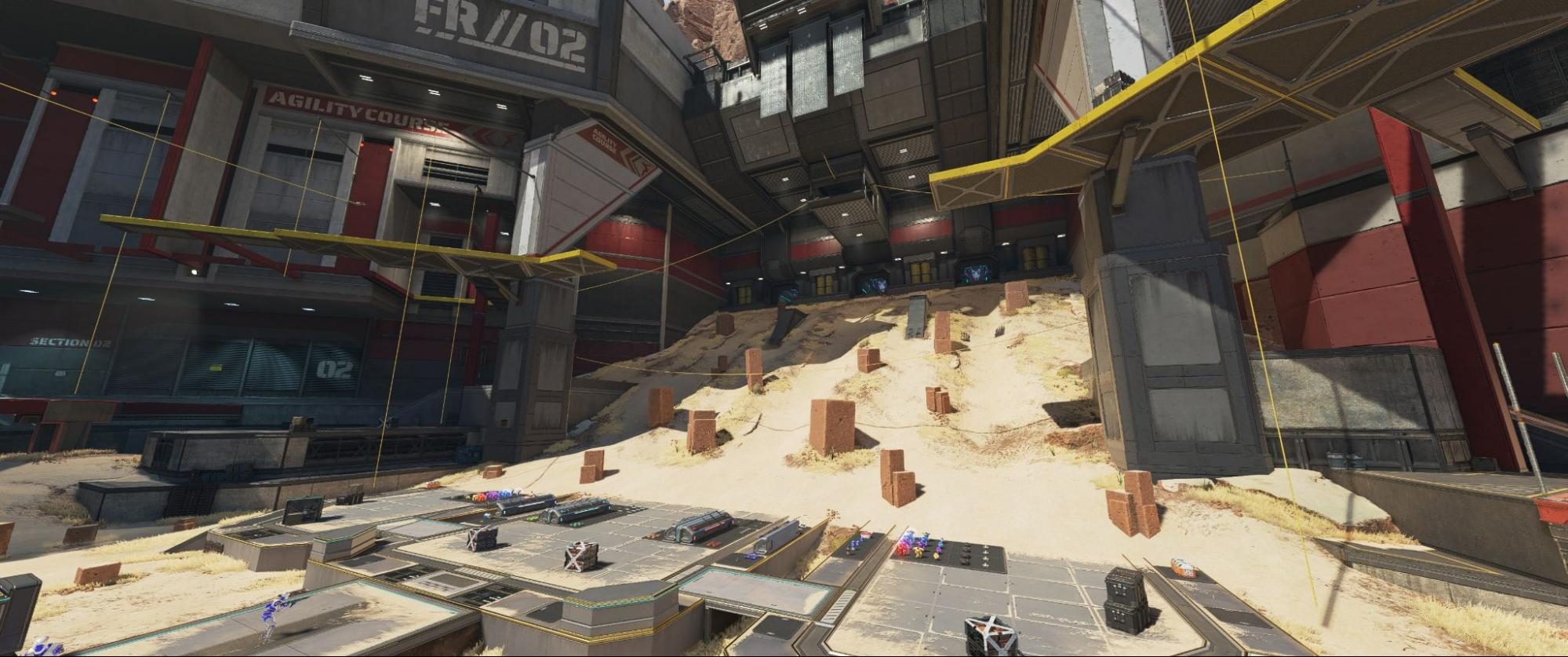 Agility Course: designed for mobility. Slide, zip, jump, climb, and balance to harden your movement skills.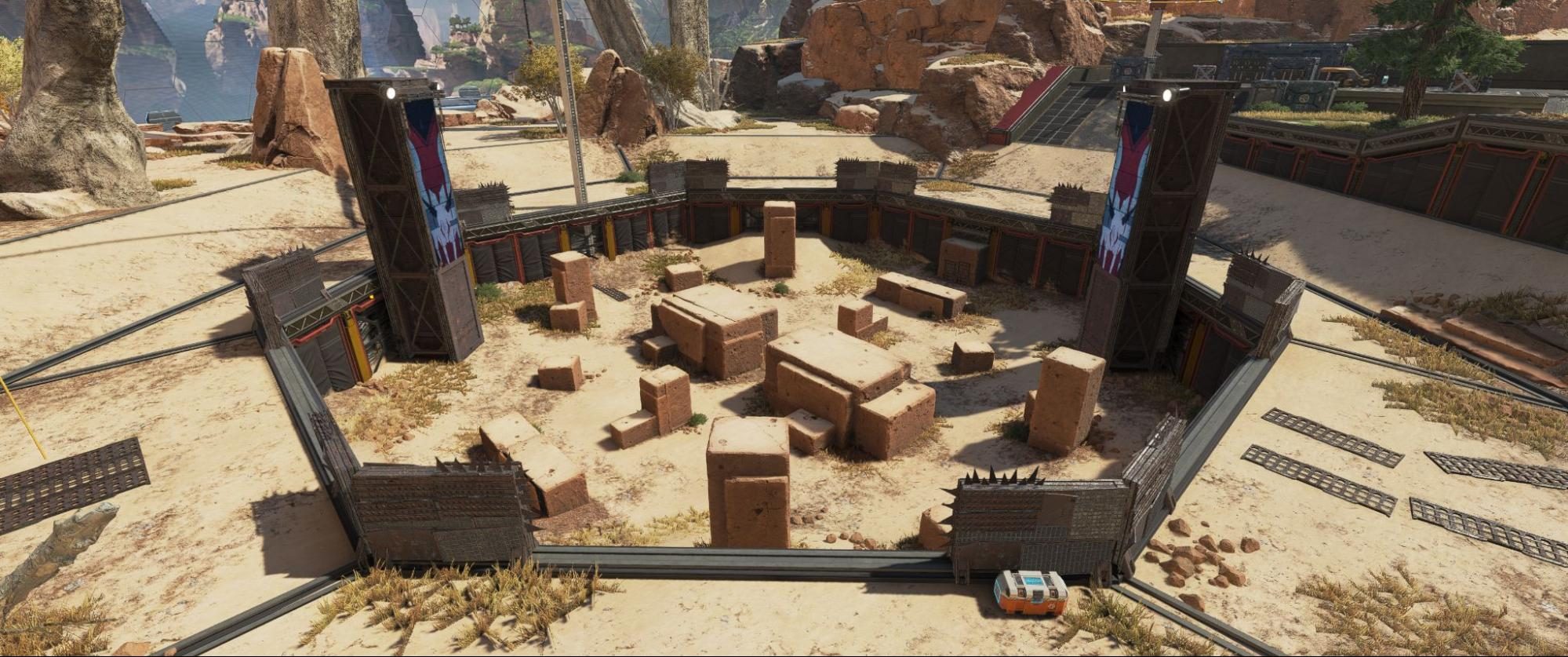 Duel Pit: designed for you to duke it out with friends and finally settle the debate on who has the fastest Wingman in the Outlands.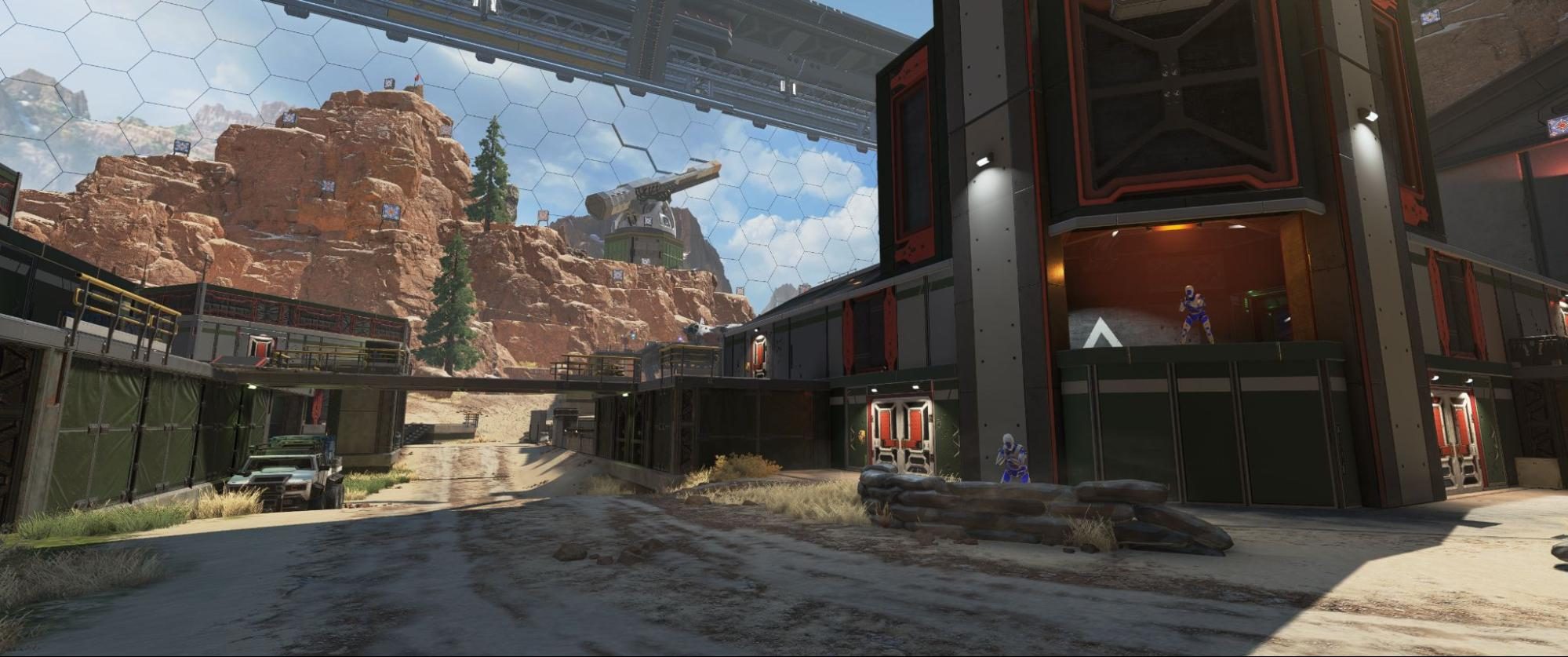 Training Grounds: the rear town allows you to practice fighting in a simulated combat experience.
Customizable Dummies
Dummies can be configured to spawn, move, and shoot at players in a variety of ways. Change the settings to find the experience that best serves your needs. Turn on Full Combat mode to have the Dummies come to life and aggressively attack you all over the Firing Range!
Improved Targets
Infinitely shootable targets will light up different colors to give you feedback for where you hit them. Turn on Hit Markers in the Customize Range settings to learn shot patterns for the myriad of available weapons.
Improved Dynamic Stats
Dynamic Stats that track your performance in real time can now be manually reset so you can use it in any manner you wish.
NEW SURVIVAL ITEM: EVAC TOWER
Evac Towers provide a new means for Legends to traverse the dangerous Apex Games and gain a positional advantage over their adversaries. Expect to find this new survival item on the floor, inside loot bins, and in care packages. Deploying an Evac Tower will send a rocket skyward, eventually exploding into a balloon high above the action. Once the anchor brings the zipline to ground level, Legends will be able to ride up and initiate a skydive, redeploying to a new location.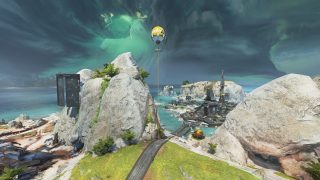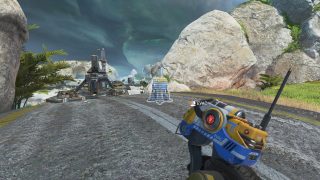 Be careful though – the Evac Tower has a limited duration and will slowly take damage over time. Enemies and allies can also shoot the balloon to accelerate this process, destroying both the Evac Tower and your hopes of escaping. Pay attention to where you deploy because your evac may be hotter than anticipated!
SEE YOU ON THE DROPSHIP
We're excited to see how these World's Edge updates switch up your hot drops and battles, and may the new Firing Range help hone your skills and guide you to victory. 
And stay tuned! We'll be publishing a Ranked 2023 Dev blog tomorrow with our latest updates to improve the experience for players of all skill levels.
---
Play Apex Legends for free* now on PlayStation 4, PlayStation 5, Xbox One, Xbox Series X|S, Nintendo Switch, and PC via the EA app, Origin and Steam.
Follow Apex Legends on Twitter and Instagram, subscribe to our YouTube channel, and check out our forums.
Sign up for our newsletter today to receive the latest Apex Legends news, updates, behind-the-scenes content, exclusive offers, and more (including other EA news, products, events, and promotions) by email.
This announcement may change as we listen to community feedback and continue developing and evolving our Live Service & Content. We will always strive to keep our community as informed as possible. For more information, please refer to EA's Online Service Updates at https://www.ea.com/service-updates.
*Applicable platform account and platform subscription (sold separately) may be required. A persistent internet connection and EA account required. Age restrictions apply. Includes in-game purchases.