This game includes optional in-game purchases of virtual currency that can be used to acquire virtual in-game items, including a random selection of virtual in-game items.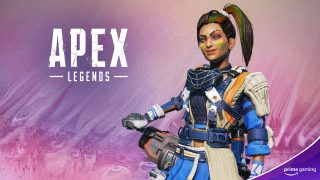 Get ready to play ball in the Apex Games with the new Prime Gaming Rampart All Star Bundle! Strike out your opponents with the new "All Star Destruction" Rampart Skin in this drop along with matching "Home Turf" Banner Frame and the "All Rounder" Spitfire Weapon Skin. Head over to Prime Gaming to grab the bundle while you can!
Unlock the 'All Star Destruction' Rampart Skin, 'All Rounder' Spitfire Weapon Skin, and the 'Home Turf' Rampart Banner Frame with your Prime membership. It's available between January 17th –  February 21st, so check out the Apex Legends™ Prime Gaming page now for details.
---
Play Apex Legends for free* now on PlayStation 4, PlayStation 5, Xbox One, Xbox Series X|S, Nintendo Switch, and PC via the EA app, Origin and Steam.
Follow Apex Legends on Twitter and Instagram, subscribe to our YouTube channel, and check out our forums.
Sign up for our newsletter today to receive the latest Apex Legends news, updates, behind-the-scenes content, exclusive offers, and more (including other EA news, products, events, and promotions) by email.
This announcement may change as we listen to community feedback and continue developing and evolving our Live Service & Content. We will always strive to keep our community as informed as possible. For more information, please refer to EA's Online Service Updates at https://www.ea.com/service-updates.
*Applicable platform account and platform subscription (sold separately) may be required. A persistent internet connection and EA account required. Age restrictions apply. Includes in-game purchases.