This game includes optional in-game purchases of virtual currency that can be used to acquire virtual in-game items, including a random selection of virtual in-game items.
Celebrate the Apex Legends Anniversary with two weeks of login rewards✝. Drop in & be legendary with Apex Legends: Revelry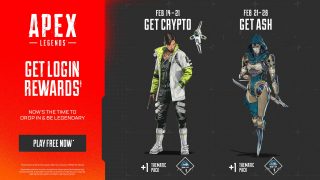 February 14 - February 21
Scout the login rewards in Week 1 by permanently unlocking Crypto and a Thematic Pack
February 21 - February 28
Phase into Week 2 and permanently unlock Ash and a Thematic Pack
Already have the Legends unlocked? Don't worry, you'll still get the Thematic packs.
So be sure to drop in and be legendary when Apex Legends: Revelry launches on February 14th and start claiming your rewards.
✝ Each week's rewards are limited to one redemption per EA Account. Offer has no cash value and may not be substituted, exchanged, or sold for cash, goods, or services. May not be combined with other offers or prepaid card redeemable for the applicable content unless expressly authorized by EA. Void where prohibited, taxed, or restricted by law. 
Offers will be available as follows:
Week 1: Offer starts at 10am PT on February 14th and end at 9:59am PT on February 21st 
Week 2: Offer starts at 10am PT on February 21st and end at 9:59am PT on February 28th
---
Play Apex Legends for free* now on PlayStation 4, PlayStation 5, Xbox One, Xbox Series X|S, Nintendo Switch, and PC via the EA app, Origin and Steam.
Follow Apex Legends on Twitter and Instagram, subscribe to our YouTube channel, and check out our forums.
Sign up for our newsletter today to receive the latest Apex Legends news, updates, behind-the-scenes content, exclusive offers, and more (including other EA news, products, events, and promotions) by email.
This announcement may change as we listen to community feedback and continue developing and evolving our Live Service & Content. We will always strive to keep our community as informed as possible. For more information, please refer to EA's Online Service Updates at https://www.ea.com/service-updates.
*Applicable platform account and platform subscription (sold separately) may be required. A persistent internet connection and EA account required. Age restrictions apply. Includes in-game purchases.