This game includes optional in-game purchases of virtual currency that can be used to acquire virtual in-game items, including a random selection of virtual in-game items.
Tis' the season to bring back Winter Express! Our cherished limited-time mode is returning to bring good tidings and tense battles as 3 squads will fight to board and capture the Winter Express train as it races around World's Edge.
Pay tribute to the deadliest winter legends and collect 24 themed limited-time cosmetics designed to instill fear in whoever your prey may be. Wintertide will include limited-time Legendary cosmetics for Bangalore, Crypto, Newcastle, Valkyrie, Gibraltar, and Bloodhound with complementary weapons.
All 24 items will be available through direct purchase (for Apex Coins or Crafting Metals) and in Wintertide Event Apex Packs for the entire duration of the event.
Unlock all 24 limited-time items during this event and you'll unlock Wraith's new Prestige skin, the "Apex Voidshifter". Prestige skins grow more elaborate with repeated use, so wear them often and show your stuff in the Games!
You can earn up to 1,600 points per day and challenges refresh daily. All these challenges also stack with your Battle Pass so you can complete multiple challenges at once.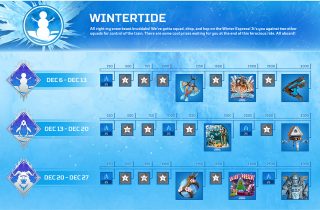 Explore limited-time offers in the Store tab including "Elf Made Pack" and "Mane Event Pack" bundles and don't miss out on other offers like the "Swish-buckler" bundle (only available December 13th to 16th) or the "Death Dealer Bonus" bundle (only available December 16th to 20th).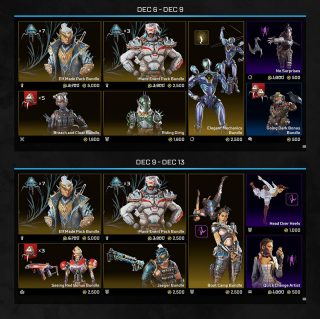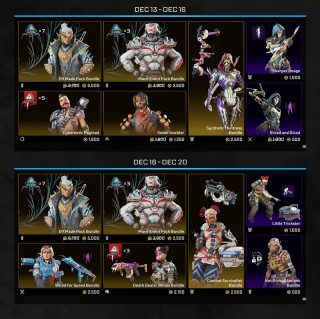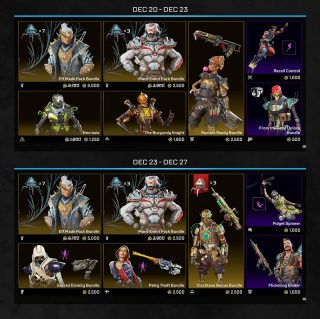 Follow updates on some of the issues we are tracking with our Apex Dev Tracker.
---
Play Apex Legends for free* now on PlayStation 4, PlayStation 5, Xbox One, Xbox Series X|S, Nintendo Switch, and PC via the EA app, Origin and Steam.
Follow Apex Legends on Twitter and Instagram, subscribe to our YouTube channel, and check out our forums.
Sign up for our newsletter today to receive the latest Apex Legends news, updates, behind-the-scenes content, exclusive offers, and more (including other EA news, products, events, and promotions) by email.
This announcement may change as we listen to community feedback and continue developing and evolving our Live Service & Content. We will always strive to keep our community as informed as possible. For more information, please refer to EA's Online Service Updates at https://www.ea.com/service-updates.
*Applicable platform account and platform subscription (sold separately) may be required. A persistent internet connection and EA account required. Age restrictions apply. Includes in-game purchases.