This game includes optional in-game purchases of virtual currency that can be used to acquire virtual in-game items, including a random selection of virtual in-game items.
Play on Olympus as you never have before in the return of the popular limited-time mode, Flashpoint! Don't have time to bleed? No worries! In Flashpoint, healing items are removed from the loot pool and replaced by "Flashpoint Zones". These zones are large areas that heal all Legends inside them. If you're looking to restore your health, you might have to fight for it!
Unleash your Legends' full power and play your way through two unique weekly challenge tracks to unlock event-themed cosmetics.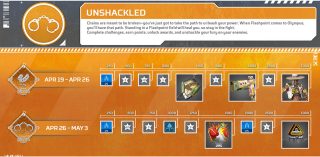 April 19th to April 26th
Key prizes include: Unique Badge, Epic Charm, Epic Re-45 skin, Epic Seer Skin.
 April 26th to May 3rd
Key prizes include: Unique Badge, Rare Apex Pack, Epic Boxing Nessie Holospray, Unshackled Pack.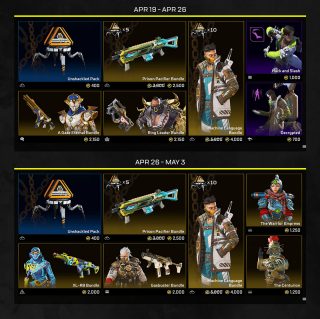 Unlock 40 event-themed cosmetics including Legendary skins like "Machine Language" Crypto, "Bad Bot" Pathfinder, "Quantum Collision" Wraith, "Slingshot" Valkyrie, "Prison Pacifier" CAR, "Terminated" Hemlok, "Digging the Grave" Peacekeeper and "Pyromania" Rampage! Or purchase Unshackled Packs* to unlock cosmetics, weapon charms, trackers, and more. Check out the schedule below for when items will be available.
*Not available in all territories
Unshackled Event Packs are available for a limited time during the Unshackled Event, but the items will be available in the standard Apex Pack pool of items after the event ends.
Unshackled Event Packs guarantee you one non-duplicate Unshackled Event item.
The new event will introduce 40 new cosmetic items around the Unshackled theme.
Unshackled items can be crafted with crafting metals. After two seasons, crafting metal costs of Unshackled Items may be reduced.
To preview/view what the new items are, players can go to the thematic event tab in-game
For more information around event packs please visit our FAQ page https://www.ea.com/games/apex-legends/about/frequently-asked-questions
Some items not available in all territories.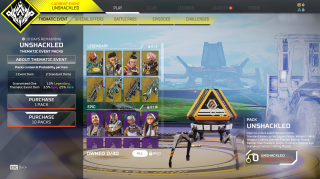 In an effort to show off new content better and make menus easier to read and navigate, we've updated the Thematic Event Tab with Unshackled..
Thanks for playing!
---
Play Apex Legends for free* now on PlayStation 4, PlayStation 5, Xbox One, Xbox Series X|S, Nintendo Switch, and PC via the EA app, Origin and Steam.
Follow Apex Legends on Twitter and Instagram, subscribe to our YouTube channel, and check out our forums.
Sign up for our newsletter today to receive the latest Apex Legends news, updates, behind-the-scenes content, exclusive offers, and more (including other EA news, products, events, and promotions) by email.
This announcement may change as we listen to community feedback and continue developing and evolving our Live Service & Content. We will always strive to keep our community as informed as possible. For more information, please refer to EA's Online Service Updates at https://www.ea.com/service-updates.
*Applicable platform account and platform subscription (sold separately) may be required. A persistent internet connection and EA account required. Age restrictions apply. Includes in-game purchases.