This game includes optional in-game purchases of virtual currency that can be used to acquire virtual in-game items, including a random selection of virtual in-game items.
Look up, Legends – a special care package is on the way. Now through April 20, Twitch Prime members can grab an exclusive Omega Point Pathfinder skin that has our robot pal looking perfect in purple. Plus, you'll snag a supply drop of five Apex Packs filled with cosmetics for your Legends and gear.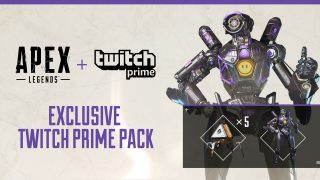 Check out the Apex Legends Twitch Prime page to find out how to call down these rewards, and we'll see you in the arena!
Play Apex Legends free* now on Xbox One, PlayStation 4, and Origin for PC.
Sign up for our newsletter today to receive the latest Apex Legends news, updates, behind-the-scenes content, exclusive offers, and more (including other EA news, products, events, and promotions) by email.
Follow Apex Legends on Twitter and Instagram, subscribe to our YouTube channel, and check out our forums.
*Applicable platform account and platform subscription (sold separately) may be required. Persistent internet connection and EA account required. Age restrictions apply. Includes in-game purchases.