This game includes optional in-game purchases of virtual currency that can be used to acquire virtual in-game items, including a random selection of virtual in-game items.
Greetings Legends,
What a day! Today we announced and released Apex Legends, a brand-new IP built by the team here at Respawn Entertainment. With Apex Legends we are expanding the Titanfall universe in new ways, with all new mechanics, gameplay, and stories to tell. If you haven't checked it out yet, Apex Legends is available to download, for free, right now on PC, Playstation 4, and Xbox One.
This is easily the most nerve-wracking, exciting, and humbling day of my career. Having worked alongside this team for almost fifteen years now, it was an honor to be chosen to lead the development of Apex Legends. Over the last two years, the road to making this game has often been bumpy, but everyone on the team has put everything they have into this game. Our goal was to make the most innovative, fun, and genre-evolving battle royale shooter to date, and I believe we achieved just that.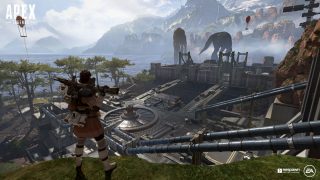 We hope Apex Legends is something you can see yourself playing for years to come, and we intend to take your time and trust seriously. We will be upfront, transparent, and honest in our communication and support of Apex Legends as we all embark on this journey together. For us, today is the start of a relationship with each and every one of you as we launch into live service. We're going to screw up along the way, bugs will be found, and balance arguments will be as "fun" as ever – but the entire team here at Respawn loves this game, we love our fans, and we can't wait to see what the future holds for Apex Legends and our community. Come along with us as we see where this game can go!
While Apex Legends isn't the game anyone expected us to make (including us!) it speaks to our development methods and mentality: we chase the fun. During the development of Titanfall 2, we created "Action Blocks" where even a single designer could come up with a fun gameplay mechanic and test it with the team – that led to the creation of the single-player campaign in Titanfall 2, and the famous time-traveling mission "Effect and Cause." Back in 2017, our designers started building early prototypes of new ideas for our next game with the very same method.    

We love playing games, just like you, so when battle royale hit the scene, many of us were playing different flavors of the genre and having a ton of fun. We also recognized that battle royale is not merely a new mode or fad, but a new genre in the shooter space. It didn't take long for a couple members on the team to build a rough battle royale prototype done our way. It was janky and ugly, but incredibly compelling, and we all wanted to keep playing it. We knew we were on to something. The longer we tinkered with the prototype, the more we wanted to play, and our daily playtests got increasingly lively.
Once we decided to make this single prototype its own standalone AAA game, we acknowledged that this was something worth putting the whole team on. Additionally, the Titanfall universe is a vibrant place we've spent eight years building. For Apex Legends, we wanted to zoom out from the binary conflict between the IMC and Militia to take a look at some of the grayer areas of the universe and the interesting people that inhabit it.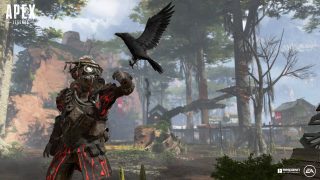 With the Legends, we didn't just want to create compelling gameplay opportunities through their mechanical differences, but also to provide an interesting space where players could attach to characters that are deep, colorful, and rich. Gaming is an amazing medium for creating interactive worlds that bring players of all kinds together – we wanted to create characters that were just as unique and diverse as the people who play them.
We made a deliberate decision to eschew a pre-release marketing campaign featuring lots of trailers and previews, so we didn't feel the need to build up hype. We know Apex Legends isn't what everyone expected us to make, so instead of spending months trying to convince a skeptical audience, we wanted to make the game available to everyone on day one. Our goal was to allow players to form their own opinions through play, and let the game do the talking.    

With Apex Legends we are shifting the type of game we build and the manner in which we release. There are bound to be concerns that this is all part of a bigger culture change within Respawn due to our acquisition in late 2017. Our independence and freedom to develop games the way we want is of paramount importance to everyone at Respawn and hasn't been sacrificed. Every creative, design, marketing, and engineering choice within Apex Legends came from us at the studio. Full stop. We're still the Respawn you (hopefully) have come to know and love. Truth be told, it is very harrowing doing so many new and different things when it comes to a game launch, and I am grateful to EA for joining and supporting us on this path.
Creating Apex Legends has been a long journey, and now we're ready to put it out into the world and continue building on it with all of you. The team is already hard at work on tons of top-secret new stuff we'll be adding to the game this year and beyond (which we'll be talking more about soon). First up will be the launch of Season 1 in March when we introduce a Battle Pass.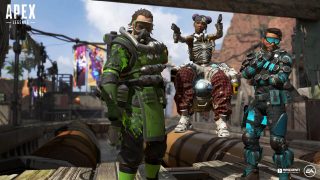 In the meantime, we'll be in the "war room" watching streams, listening to your feedback, poring over all the data coming in from live matches, and doing our best to address any issues that may pop up. And, of course, we'll be enjoying something we've been waiting a long time for – finally getting to play Apex Legends with all of you.
We thank each and every one of you for sharing today's launch with us. Here's to the future of Apex Legends!
    – Drew
P.S. If you're ever in need of a clutch Lifeline main, hit me up. I'll see you in the Outlands!