This game includes optional in-game purchases of virtual currency that can be used to acquire virtual in-game items, including a random selection of virtual in-game items.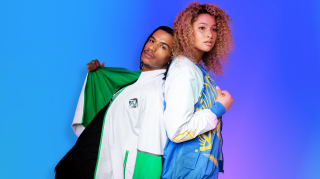 Today, we're excited to share details on a legendary collaboration that we've been working on for quite some time—our first community-created capsule collection!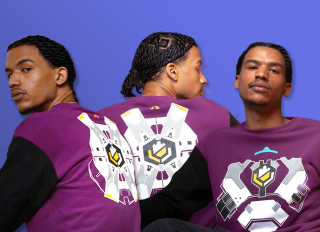 Over a year in the making, this collection was designed in partnership with community creator, Mathew Morales Vargas, aka Spear, after seeing his incredible Apex-inspired merch concepts online. The collection includes t-shirts, hoodies, and jackets, and is available now on the Apex Legends Merch Shop. But enough from us, here's what Spear had to say about the collection. Take it away, Spear! 
For those who don't know you, tell us a little bit about yourself
My name is Mathew "Spear" Morales Vargas and I have been in the Apex Legends community since you could slap a 3x scope on an R-99 and before the "Mozambique here" meme was born. I'm a 30y/o Multimedia Designer with a background in Architecture, directly from Puerto Rico and ¡100% boricua!
During my time in this community, I've been involved in a series of projects, both fan-made and official. I was part of the Crypto ARG in 2019, which consisted of a series of fan-made puzzles that resulted in a canon Crypto lore piece. I worked as an Admin for r/ApexLore to build the first iteration of what is now the Apex Lore Compendium and co-developed the Trident Cup Tournaments. I've also collaborated with several community artists and content creators like Raynday and Kandyrew. Lastly, I was commissioned by Respawn to animate one of their Twitter Radio Plays.
I'm currently retired from the r/ApexLegends and r/ApexLore teams, but remain a fan of the game. It's been quite the ride!
What made you want to design Apex Legends apparel?
I have been creating mockup concepts as a designer for years now, but I stumbled upon something truly special when I worked on my rendition of the Bloodhound Road Warrior Hoodie upon the release of S6's Battle Pass trailer. It was the first time I actively translated an in-game cosmetic into a wearable piece of apparel, and the community loved it! Since then, I have designed a multitude of unique apparel concepts with the intention of showing how much potential there is in gaming apparel.
This is the first time Apex Legends has collaborated and released official merchandise with a community member. What's that process been like? What were the biggest challenges in that collaboration?
It has been such a long but rewarding process. There was lots of brainstorming, sketching, and feedback. It was truly exciting to design for this IP in an official capacity. Of course, like any project, it presented some challenges as well.
We had our hands full: from adding new items and dealing with fabric shortages to coordinating the photoshoot and ramping up marketing ideas, there was plenty of work to do, but we got it done. We worked together and released the first official community created apparel collection. All it took was patience.
In your eyes, what makes this collection special?
I think what sets my work apart from others is the fact that anyone can enjoy these items regardless of their affiliation with Apex Legends. I wanted to create a collection that translated memorable in-game elements into wearable pieces of apparel that felt unique and vibrant. It's the first time we as players get to wear some of our favorite legend's cosmetics and even other iconic pieces from the game we love.
Anything else you'd like to let the community know?
I'd like to remain hopeful that this collection will serve as a foundation for other community collaborations in the future. I'm extremely grateful this game has given me these opportunities and I hope everyone enjoys the results. As for myself, I'm looking forward to expanding my apparel work–and grinding Ranked with my squad each new season in the meantime.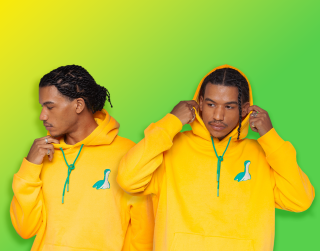 The Apex Legends x Spear Collection is available now! Go grab a Nessie hoodie for yourself, and we'll see you in the Outlands.

---
Play Apex Legends for free* now on PlayStation 4, PlayStation 5, Xbox One, Xbox Series X|S, Nintendo Switch, and PC via the EA app, Origin and Steam.
Follow Apex Legends on Twitter and Instagram, subscribe to our YouTube channel, and check out our forums.
Sign up for our newsletter today to receive the latest Apex Legends news, updates, behind-the-scenes content, exclusive offers, and more (including other EA news, products, events, and promotions) by email.
This announcement may change as we listen to community feedback and continue developing and evolving our Live Service & Content. We will always strive to keep our community as informed as possible. For more information, please refer to EA's Online Service Updates at https://www.ea.com/service-updates.
*Applicable platform account and platform subscription (sold separately) may be required. A persistent internet connection and EA account required. Age restrictions apply. Includes in-game purchases.