This game includes optional in-game purchases of virtual currency that can be used to acquire virtual in-game items, including a random selection of virtual in-game items.
HI THERE FRIENDS!, I'm @alex_frostwolf, social lead on Apex Legends, and today I'm excited to share details on some of our efforts to champion a community very near and dear to our hearts—the Apex Legends artist community!
It's no surprise that we love fan art on the Apex Legends team. From sharing and interacting with the pieces you post online, to commissioning folks for comics that are a part of the canon Apex Legends universe, we truly can't get enough. With the Legacy update, we've decided to up the ante with two projects that not only champion the talent within the Apex Legends artist community, but also lay the groundwork to continue making you a part of our story.
STORY TIME! Many moons ago, Senior Writer Tom Casiello was answering lore questions as he does on Twitter, and he was asked about the rabbit in Octane's Hare Raiser frame. In true Tom fashion, he crafted a tale about Navi, Octane's pet rabbit he had as a kid. A few days later, community artist Noxlotl showed up with the piece below. I kid you not when I say that Tom's and my screams of delight could be heard 'round the world. We were floored. Never had we seen the community effectively become a part of the Apex Legends narrative in this way and from there we knew this could be the start of something special.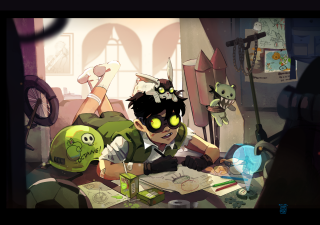 Today I'd like to announce a new initiative we're kicking off this season called Community Created. Each season, starting with the Legacy update, we're partnering with artists within the Apex Legends community and commissioning them to create bespoke, earnable cosmetic items ranging from loading screens to weapon charms and more. The Legacy Community Created items are 6 unique loading screens created by 6 different artists, including the screen that started it all, the Noxlotl piece you see above. 
While the Community Created items for Legacy will be rewarded via Twitch Drops, how players earn the items each Season will change. More info on that soon!
Something we realized early on was that there are truly a never-ending number of stories within the Apex Legends universe that we'd like to tell, but we have limited space to do so. With there only being so much room in trailers or in-game, the writers team and I put our heads together to come up with other ways to get these stories out. For some time now, we've looked to the talent within the Apex Legends artist community to help us tell those stories in chunks, but with the Legacy update being our largest to date, we knew we had an opportunity to go bigger than ever before. 
I am THRILLED to announce that not only will Apex Legends: Legacy include our most ambitious social comic to date, but it also marks the first time we have ever included a community artist as part of our in-game comic. If you haven't read it already, check out The Legacy Antigen - Prologue, brought to life by the talented JEL, available in-game now.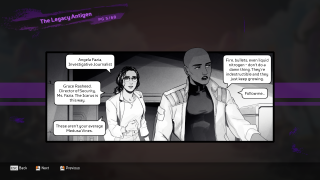 But that's not all! Starting later this week and for the next 10 weeks, we will be releasing one community-drawn comic each week on our social channels as part of a companion comic to one in-game. Each issue has been drawn by a different community artist and hooooo boy, they are GOOD. Issues will drop on either Thursday or Friday of each week on Twitter at @PlayApex, so be on the lookout! 
To get you as hyped as we are, here's a list of folks we tapped for this project:
If you're not following them already, DO. You might also find other artists you enjoy along the way, this community has a habit of being filled with incredibly talented people.
One last thing I'd like to mention. I know some folks have voiced wanting a place to see all of this storytelling in one convenient place. We do too, and not only so we can enjoy the pieces again and again, but also so new players are able to easily find them. We're currently working on a solution for this and hope to have something relatively soon, but in the meantime, know that it's coming.
Alright, well hey, that's all from me! Because I haven't said it enough, from the bottom of our hearts, thank you to any and every Apex Legends artist who has ever shared their work with us. I speak for the entire Apex Legends team when I say it genuinely makes our day.
See y'all in the Outlands,
- Alex
---
Play Apex Legends for free* now on PlayStation 4, PlayStation 5, Xbox One, Xbox Series X|S, Nintendo Switch, and PC via Origin and Steam.
Follow Apex Legends on Twitter and Instagram, subscribe to our YouTube channel, and check out our forums.
Sign up for our newsletter today to receive the latest Apex Legends news, updates, behind-the-scenes content, exclusive offers, and more (including other EA news, products, events, and promotions) by email.
This announcement may change as we listen to community feedback and continue developing and evolving our Live Service & Content. We will always strive to keep our community as informed as possible. For more information, please refer to EA's Online Service Updates at https://www.ea.com/service-updates.
*Applicable platform account and platform subscription (sold separately) may be required. A persistent internet connection and EA account required. Age restrictions apply. Includes in-game purchases.