This game includes optional in-game purchases of virtual currency that can be used to acquire virtual in-game items, including a random selection of virtual in-game items.
APEX LEGENDS™ MOBILE
COLD SNAP PATCH NOTES
Greetings Legends! 
With the release of Cold Snap, we wanted to take a moment to reflect on and celebrate the launch of Apex Legends Mobile and give you an update from the development team!
First of all, we want to thank everyone that's joined us on our launch. We are so humbled and grateful for  the community's response to Apex Legends Mobile.  We're blown away by the passion and creativity of the community. We're excited to iterate on the game with you—Prime Time was just the beginning! 
We really appreciate you all being vocal and sharing your feedback with us. This is how we'll continue to make the game better: with your continued feedback, be it good or critical. Some of the things we've heard from the community as urgent fixes are:
Frustrations around the Ranked System
How Bans are handled in Normal Matches
Matchmaking optimizations 
Performance optimizations for devices and servers
While we're not responding to every thread that's out there, we are listening to the community and taking in the feedback.  Much of the feedback we've received is either currently being addressed by the team or we have plans for it in the near future. We're continually checking our data to evaluate the game's health and performance, and we'll be relying on that as well as the community's feedback as we collectively build on the game together.
Notably, we've been making some adjustments to our matchmaking and systems that impact servers.  Our goal with Apex Legends Mobile is to facilitate a highly competitive mobile experience.  This will be a space where we'll continue to iterate, with the key focus on low latency (so you're playing with players that have a similar experience on their device) and matchmaking with players of similar skill sets. 
Regarding the topic of bots, the dev team does see value in employing bots in various parts of the game. However, our main goal is to provide a competitive gaming experience for our players above all else. Exposure to bots should diminish as you play more and increase your skill level. We'll continue to assess and iterate on our matchmaking over the upcoming seasons. Please continue to share your thoughts.
We are eager to share more of what's coming for Apex Mobile when we're ready! Keep an eye out on our official communication channels and you'll be the first to know. 
Thank you so much for your continued support of Apex Legends Mobile. We'll see you on the drop ship!
 <3 The Dev Team
And now, back to our regularly scheduled programming. Legends…. Welcome to Cold Snap!
In this update we're releasing fan favorite Loba, a limited time game mode, and brand new skins and cosmetics for maximum icy cold drip! Ready? Let's get frosty!!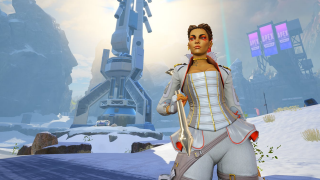 When Loba was nine, she looked on as simulacrum hitman Revenant killed her family. Left with nothing, Loba survived by picking pockets. Everything changed when she broke into a supposedly impenetrable facility and got her hands on the Jump Drive tech stored inside. With her new teleportation bracelet, the most secure and unattainable items were within her reach. So was her dream of living the high life. Now, she's joined the apex games for a little R&R: riches and revenge.
Passive: Eye For Quality
Nearby Epic and Legendary loot can be seen through walls.
Tactical: Burglars Best Friend.
Teleport instantly by throwing your jump drive bracelet to a targeted location.
Ultimate Ability: Black Market Boutique
Place a portable shop on the ground that allows you and your allies to instantly loot the surrounding area.
Play Loba and unlock her unique legend progression perks to steal the win from the competition. You can find Loba in the shop or at level 25 of the Battle Pass. Some of Loba's perks include the ability to gain extra loot from crates and even steal her squadmates' banners! 
Hop into the game to explore everything Loba and her perks have to offer!
Armed and Dangerous: Shotguns and Snipers only - Up close or from afar, there is no middle ground.
Winter Warfare has taken over World's Edge. The climatizer will turn off and on during the course of a match covering parts of World's Edge with snow! Drop into Worlds Edge for frosty rewards! When the Climatizer is on, check your mini map for Frosted loot boxes. Collect diamonds from frosted over loot boxes and foes alike to spend on rare items in the seasonal shop!
Keep your eyes peeled for Snow Grenades, a new throwable item that damages and slows enemies when it explodes.
Collect Diamonds to spend in the brand new seasonal shop! Diamonds can be found in loot boxes during a match, on your opponents when eliminated, and can be earned by completing missions!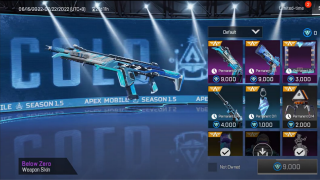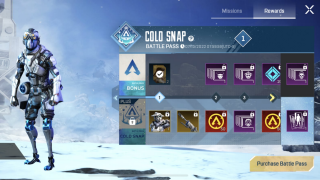 BP Change:
Since the release of the Prime Time Battle Pass, we have received an astounding level of support. We are continuously doing our best to review your feedback and optimize the Battle Pass experience.
To express our gratitude, we will be providing the following rewards to players who purchase the Prime Time Premium or Premium Plus Battle Pass prior to the launch of Cold Snap:
50 Syndicate Gold
1 Syndicate Pack
 These rewards will be provided following the launch of Cold Snap and will be sent via in-game mailbox so be on the lookout!
Also, starting from the launch of the season, 800 Syndicate Gold will be provided with the completion of the Cold Snap Premium or Premium Plus Battle Pass.
Thank you Legends for supporting Apex Legends Mobile!
Improved hip fire accuracy and lowered horizontal recoil of fully automatic weapons (Including Assault Rifles, SMG's, LMG's & Pistols).
Optimized Wraith's base visuals 
Fixed an issue where players were unable to adjust the auto ammo pickup settings for the Peacekeeper
Adjusted several replicator spawn locations
Fixed several spots on worlds edge where players would get stuck or blocked on the terrain.
Fixed an issue where Mirage players would experience lag when taking out a weapon after activating their ultimate ability.
Fixed the slow down effect of Fade's ultimate ability if he left the game 
Fixed Octanes Incorrect VO callouts when using his jump pad
---
For more information on Apex Legends Mobile visit our EA Help FAQ page here. 
We are also looking forward to hearing your thoughts on Apex Legends Mobile, so please share your feedback on EA Help or the Apex Legends Mobile Forum.
This announcement may change as we listen to community feedback and continue developing and evolving our Live Service & Content. We will always strive to keep our community as informed as possible. For more information, please refer to EA's Online Service Updates at https://www.ea.com/service-updates.